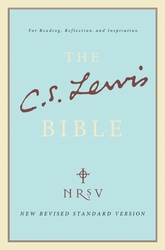 Studded with hundreds of insightful gems from Bible student C.S. Lewis, this brilliantly executed edition of the NRSV, that most stylish modern translation, has a value that is truly unique. — J. I. Packer, Professor of Theology, Regent College
San Francisco, CA (PRWEB) October 28, 2010
HarperOne announced today the forthcoming release of THE C. S. LEWIS BIBLE (November 2010). One of the most anticipated Bibles of our time, THE C. S. LEWIS BIBLE offers one of our most revered Christian thinkers as a companion to a reader's reflection, meditation, and study of scripture.
"THE C. S. LEWIS BIBLE offers a unique way for readers to reflect upon important biblical passages," said Mark Tauber, SVP, Publisher. "By pairing Lewis's writing with scripture, this Bible offers readers the opportunity to gain fresh insight into Lewis's writings, his own spiritual journey, and to the scriptures themselves."
Including key features such as:

Over 600 selections from C. S. Lewis for contemplation and devotional reading
Introductory essays on C. S. Lewis's view of scripture
Indexes to guide you to each reading from C. S. Lewis
Attractive two-color interior (brown/black)
Double-column format, in a readable, classic design
Presentation page for gift-giving
THE C. S. LEWIS BIBLE offers an unprecedented window into the Bible and draws upon the distinctive wisdom and spiritual insight from one of the most thought provoking and influential Christian writers of our time.
Clive Staples Lewis (1898—1963) was one of the intellectual giants of the twentieth century and arguably the most influential Christian writer of his day. He was a Fellow and Tutor in English literature at Oxford University until 1954, when he was unanimously elected to the Chair of Medieval and Renaissance English at Cambridge University, a position he held until his retirement. His major contributions in literary criticism, children's literature, fantasy literature, and popular theology brought him international renown and acclaim. He wrote more than thirty books, allowing him to reach a vast audience, and his works continue to attract thousands of new readers every year. Visit the C. S. Lewis website at http://www.cslewis.com.
PRAISE FOR THE C.S. LEWIS BIBLE
"Again and again, Lewis makes you see new things in familiar texts. The freshness of his insights makes this study Bible a really distinctive, challenging and enriching resource. We are enabled to read the Bible in the company of one of the greatest and wisest of its modern readers." — Archbishop Rowan Williams
"The C. S. Lewis Bible is not a commentary in anything like the traditional sense. Rather it contains deeply penetrating insights into God and human life and then invites us to ponder Scripture anew in the light of these insights." — Richard J. Foster, Author of various books including Celebration of Discipline and Streams of Living Water
"The C.S. Lewis Bible is a unique, rich work by dedicated editors and scholars well-versed in Lewis's works.… It is interspersed with carefully selected readings from Lewis's works…and attempts to link Lewis's "great gems of wisdom" which fill his works with their Biblical sources, sending the delighted reader back to re-read and enjoy the Biblical text." — Salwa Khoddam, C.S. Lewis Inklings and Society
"Our reading of the Bible is always enhanced when done in the company and in conversation with another. When the other is saturated in the Scriptures and gives evidence of having lived what is read, both our understanding and participation in what we read are increased. With this book in our hands many of us are going to relish having C.S. Lewis, who knew how to read his Bible, as a companion in our reading—and our living." — Eugene H. Peterson, Translator of The Message
THE C.S.LEWIS BIBLE
HarperOne, an Imprint of HarperCollins Publishers
Hardcover | $34.99 | 1568 Pages | ISBN 9780061982088
November 2010
# # #