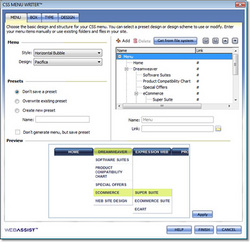 Dreamweaver designers and developers have been clamoring for a solution that helps them take customized, standards-compliant CSS-based navigation menus to the next level easily and efficiently
San Diego, CA (PRWEB) May 14, 2008
WebAssist today announced the immediate availability of CSS Menu Writer, a cutting-edge Dreamweaver Extension that helps web professionals easily create a wide range of cross-browser, CSS-based navigation menus compliant with web standards and fully customizable.
One of the biggest challenges for modern web professionals today is the creation of CSS-based, standards-compliant navigation menus. With WebAssist's new CSS Menu Writer, developers now have a powerful solution in hand to generate customized, standards-based menus quickly and easily across browsers directly within Dreamweaver.
While CSS Menu Writer is powerful on its own, when used in conjunction with Eric Meyer's CSS Sculptor, released last summer for creating standards compliant CSS-based layout, the power of CSS for creating custom web pages with stellar navigation has never been easier.
In CSS Menu Writer a number of preset menus, both vertical and horizontal, are included in four different styles and 12 different color schemes. All of the menus are fully customizable, with features that include different typefaces and sizes, finely tuned margins and paddings, and even color and background images. Customization can be applied differently for each level, so sub-menus can differ from the main level or sub-sub-menus. Custom menus can be stored as presets to be quickly re-used and modified, along with an option to export personal presets to use on another system or share with a fellow designer.
"Dreamweaver designers and developers have been clamoring for a solution that helps them take customized, standards-compliant CSS-based navigation menus to the next level easily and efficiently," said Hieu Bui, President, WebAssist. "The release of CSS Menu Writer fills a huge void in the workflow of many developers, and we are thrilled to release this to the web community."
CSS Menu Writer is available now, with a list price of $99.99 and an introductory price of $74.99 through May 27, 2008. For more information about CSS Menu Writer, please visit: http://www.webassist.com/go/menu/.
RELATED LINKS

ABOUT WEBASSIST
WebAssist enables designers and developers to Do More on the Web with market-leading plug-ins for the Adobe and Microsoft platforms. WebAssist also provides best of breed products and services that empower businesses to realize a greater return on their technology investments. WebAssist hosts a thriving community with over 200,000 members registered and partners with industry leaders such as Adobe, eBay, and Google.
Press Contact:
Aaron Wessels, Press Contact
Point-Blank Communications for WebAssist
+1 415.378.8090
aaron @ poinblankcomm.com
WebAssist.com Corporation
http://www.webassist.com
###