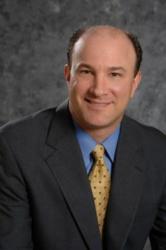 "When I meet with my patients, my goal is to treat the whole patient," says Dr. Richlin of RMACT.
Norwalk, CT (PRWEB) June 15, 2011
Fertility Doctor Spencer Richlin of Reproductive Medicine Associates of Connecticut (RMACT) has been honored with two important accolades – one based on input from his peers and the other from patients. Dr. Richlin is included in "2011 Top Doc New York Metro Area," which is compiled by Castle Connolly after culling peer reviews. Vitals.com readers also rated Dr. Richlin as "Most Compassionate," a distinction that only three percent of the nation's 720,000 active physicians receive.
"When I meet with my patients, my goal is to treat the whole patient," says Dr. Richlin, who is the Surgical Director and an Infertility Specialist with RMACT, as well as the Division Chief of Reproductive Endocrinology and Fertility at Norwalk Hospital. "That includes taking into consideration the emotional ebbs and flows that come with fertility treatment. I also encourage them to take care of themselves – I want them to have positive energy and remember that their health is important."
His approach to patient care and their successful treatments have resulted in these two latest awards. This is the fourth award that Dr. Richlin has received from Vitals.com for his standout treatment of patients, and his second "Most Compassionate" Award. The award is part of the reproductive endocrinologists' profile on Vitals.com, UCompare HealthCare, Right Health, Google, and a variety of Managed Care sites.
Dr. Richlin is Board Certified in both Reproductive Endocrinology, Obstetrics and Gynecology. He is a member of the American College of Obstetrics and Gynecology and of the American Society for Reproductive Medicine. He recently co-wrote with his RMACT partner, Dr. Mark Leondires, the fertility chapters in a new textbook titled Avoiding Common Obstetrics and Gynecology Errors, published by Lippincott, Williams & Wilkins.
About RMACT
Reproductive Medicine Associates of Connecticut (RMACT) specializes in the treatment of infertility. With Connecticut fertility clinics and egg donation offices in Norwalk, Danbury and Greenwich, and affiliate New York fertility clinics serving Westchester, Putnam and Dutchess counties, our team of Board-Certified Reproductive Endocrinologists offer a wide range of infertility treatments from ovulation induction and intrauterine insemination (IUI) to the most advanced assisted reproductive technologies including in-vitro fertilization (IVF), egg donation and its own cutting-edge procedure called Comprehensive Chromosomal Screening (CCS), a form of preimplantation genetic diagnosis (PGD). RMACT offers individualized infertility treatment plans in a patient-focused and supportive environment. Support services, such as, psychological counseling, acupuncture and yoga are also available through RMACT Integrated Fertility & Wellness Program, as well as infertility treatment financing.
The RMACT team of fertility doctors includes Drs. Mark P. Leondires, Spencer S. Richlin, Joshua M. Hurwitz and Cynthia M. Murdock. All physicians are members of the American Society for Reproductive Medicine (ASRM), the Society for Assisted Reproductive Technology (SART) and the Fairfield County and Connecticut Medical Societies. RMACT's IVF laboratory is accredited by the College of American Pathologists (CAP), and CLIA; other accreditations include the Accreditation Association for Ambulatory Health Care (AAAHC) and the American Institute for Ultrasound in Medicine (AIUM). For more information visit http://www.RMACT.com.
# # #