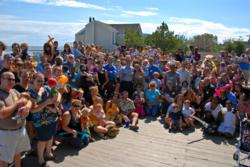 It was gratifying to see so many children we helped create in one place, from two week newborn girl to a 20 year old college student who was among the first 'CT Fertility babies'.
Bridgeport, CT (PRWEB) September 13, 2011
CT Fertility, one of the leading fertility and egg donation centers in the United States, hosted this weekend its annual reunion party in Fairfield, CT. Unlike previous years, this year's "Baby Party" is part of a series of events worldwide to mark the clinic's 20th anniversary, and was unique in several more ways. "With more than 400 present, this was the largest gathering we ever had of parents, children, doctors, surrogates and egg donors," said Dr. Michael Doyle, the clinic's medical director. "It was gratifying to see so many children we helped create in one place, from two week newborn girl to a 20 year old college student," he said. "Furthermore, we have received numerous pictures, letters and even video clips from the many parents we helped that live far away, many of which we projected on a virtual 'wall of joy' during the party". Several more families took the opportunity to record video greetings and testimonials during the party.
Indeed, since 1991 CT Fertility already helped several thousand couples and singles become parents, many of them from over 30 countries around the world. Far from an exclusively local phenomenon, the clinic indeed has "parent communities" it helped create around the world. For this reason CT Fertility is taking its 20th anniversary celebrations also to London (9-16-11), Paris (9-18-11) and NY (10-1-11), in partnership with local parent associations.
Also reflecting its international involvement, CT Fertility announced that three family-centered charities in the USA and Africa would benefit from donations totaling around $40,000, to mark the expected birth of about 400 babies with the help of the clinic this year. Another initiative will provide free fertility services to several families annually. The new campaigns supplemented the clinic's traditional annual food drive benefiting the CT Food Bank, which resulted in a significant amount of food and cash donated by the families.
Note: CT Fertility has Speakers Bureau with a number of parents, egg donors and surrogates who agreed to speak at events and to the press in order to advance awareness of the benefits and relief available through reproductive technologies. We will be happy to put you in contact with some of them, and we have photos, written and videotaped testimonials of a large number as well. They include straight and gay patients who achieved multiple pregnancies, who used egg donors or surrogates, who had a child with the help of adopted embryos, advanced new treatment options such as frozen (vitrified) eggs and PGD testing to avoid genetic disorders, and many that overcame tremendous odds and decades of struggle to become parents. Interviews with Doctors Michael Doyle and Shaun Williams (both residents of Fairfield) and staff can also be arranged.
For more information about CT Fertility please visit http://www.CTFertility.com
About CT Fertility
Founded by Dr. Michael Doyle, CT Fertility specializes in Reproductive Medicine, Egg Donation and Surrogacy. Since 1991 CT Fertility has created over 4,500 babies for a diverse group of parents from around the world - including clients from over 30 countries, couples and singles, straight and gay, and spanning a wide range of ages. Based in Bridgeport, CT, and with offices in New York City, the clinic achieves exceptional results by coordinating every aspect of the medical process, all under one roof, including the finding and pre-screening of highly qualified and immediately available local egg donors and surrogates.
CT Fertility services include basic fertility testing and treatments, IVF, ICSI, pre-implantation genetic diagnosis (PGD), egg freezing and banking, and embryo adoption. CT Fertility operates one of the oldest and most established IVF laboratories in the USA, with state-of-the-art technology, equipment, protocols, and access to the most currently available genetic technology. Through the early mastery of the vitrification freezing technology and other protocols, CT Fertility has also established one of the largest and most successful Donor Egg Banks in the world.
CT Fertility personalizes the parenting journey by offering a wide range of treatment and egg donation options, taking into account your long-term family vision, ethical, legal and financial considerations, personal relationships and priorities, and coping preferences.
###