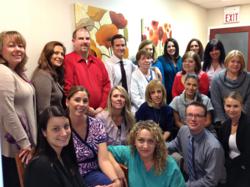 The beneficiary organizations were chosen due to their support for the well being of families of all kinds worldwide, reflecting the growing diversity of the parents we help, including clients from over 30 countries, couples and singles, straight and gay.
Bridgeport, CT (PRWEB) December 13, 2012
CT Fertility, one of the leading fertility centers in the USA, is continuing its social responsibility tradition with major gifts announced today to three family-centered causes. CT Fertility and its medical director already have a long history of donating funds, free fertility services, and food to families and children in need. As part of the CT Fertility Gives Back initiative started in 2011, the clinic decided to forge an even stronger bond with the larger community by pledging to give $100 to a family-centered charity for every baby conceived as a result of fertility treatments, IVF, egg donation and surrogacy services the clinic provides. "We are proud to have assisted in the conception and successful birth of about 300 babies in 2012," said Dr. Michael Doyle, the clinic's founder and medical director. "I could think of no better way to celebrate this achievement than to further the work of three of the organizations we have already supported in the past: Save The Children, Children Mending Hearts and The Financial Assistance Fund of Men Having Babies.
For the first time this year, CT Fertility also invites its current and former clients, staff and friends to join in and make contributions to one of the three designated charities. "We are often asked by new parents if there is any way they can show their gratitude and celebrate the birth of their long awaited child," said Dr. Doyle. "While we are happy to simply receive their cards and family pictures, this year we invite them to join as a community to help one of the charities we chose." A special campaign page on CT Fertility's website was set to direct these donations and allow people to add comments or dedications.
"The three organizations benefiting from the new initiative were chosen due to their long commitment and support for the well being and safety of families of all kinds worldwide," said Dr. Doyle, "reflecting the growing diversity of the parents we help, including clients from over 30 countries, couples and singles, straight and gay, and spanning a wide range of ages."
"We are thrilled by the continued and generous support of Dr. Doyle and CT Fertility in such a meaningful way," said Ron Poole-Dayan, Men Having Babies' executive director. "CT Fertility has already helped hundreds of gay and lesbian couples and singles become parents, and supported our organization several times before. We are touched that they share our dedication to making family building services more accessible for those who cannot afford the entire process. With the substantial help from CT Fertility, The Gay Parenting Financial Assistance Fund is closer to our goal for 2013 of providing direct grants to more than a dozen gay couples worldwide who require assistance in their quest for parenthood."
"Children Mending Hearts is immensely thankful for the generous support from Dr. Doyle and the amazing team at CT Fertility," said Lysa Heslov, founder and executive director of the organization. "Their generosity will allow CMH to continue to educate and empower at-risk youth
as well as hit home our message of children helping children. CMH conducts workshops in the arts in America with at-risk children's organizations, and internationally with NGO's aiding children in conflict zones. Additionally, CMH's after-school programs are able to engage the youth of America in global children's causes, provide a global education, keep kids off the streets, and empower future global citizens towards the path of peace, understanding, and empathy. " It is compassionate people like Dr. Doyle and the team at CT that helps us at CMH make the world a better place. One child at a time."
We are very appreciative of CT Fertility's generous contribution to Save the Children and our work to support children and families in the United States and around the world", said Lauren Biller, the organization's manager of corporate partnerships. "We love the fact that Save the Children goes into the heart of communities year-round to help children and families help themselves," said Dr. Doyle. "And when disaster strikes around the world, as it did recently so close to our own home in hurricane Sandy, Save the Children is there to save lives with food, medical care and education – and remains to help communities rebuild."

About CT Fertility
Founded by Dr. Michael Doyle, CT Fertility specializes in Reproductive Medicine, Egg Donation and Surrogacy. Since 1991 CT Fertility has created over 4,500 babies for a diverse group of parents from around the world - including clients from over 30 countries, couples and singles, straight and gay, and spanning a wide range of ages. Based in Bridgeport, CT, and with offices in New York City, the clinic achieves exceptional results by coordinating every aspect of the medical process, all under one roof, including the finding and pre-screening of highly qualified and immediately available local egg donors and surrogates.
CT Fertility services include basic fertility testing and treatments, IVF, ICSI, pre-implantation genetic diagnosis (PGD), egg freezing and banking, and embryo adoption. CT Fertility operates one of the oldest and most established IVF laboratories in the USA, with state-of-the-art technology, equipment, protocols, and access to the most currently available genetic technology. Through the early mastery of the vitrification freezing technology and other protocols, CT Fertility has also established one of the largest and most successful Donor Egg Banks in the world.
CT Fertility personalizes the parenting journey by offering a wide range of treatment and egg donation options, taking into account your long-term family vision, ethical, legal and financial considerations, personal relationships and priorities, and coping preferences.