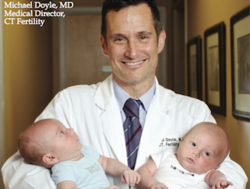 We understand the need for both certainty and affordability, so we've added a new unlimited comprehensive IVF package which for about the same price as last year's single-cycle option, includes as many IVF treatment cycles as it takes to achieve success.
Bridgeport, CT (PRWEB) January 23, 2013
CT Fertility, one of the leading fertility centers in the United States, announced a new and expanded program lineup which includes an overall 15% reduction in previous fees, the addition of several new low-cost shared egg donation plans, and several new unlimited cycle packages for IVF and surrogacy. "We definitely understand the need for both certainty and affordability with IVF, egg donation and surrogacy, so we have added a new unlimited comprehensive IVF package for about the same price of last year's standard single-cycle option," explained Dr. Michael Doyle, the clinic's medical director. With this new package, prospective parents will pay a one-time flat fee that includes everything—egg donor-related fees, all medications, and unlimited IVF and embryo transfers (fresh or frozen) until the intended parents are successful. In addition, if an egg donor is used, the clinic guarantees the number of eggs that the parents will receive. Lastly, there will be no additional restrictions to people who wish to only transfer one embryo at a time, so that parents who choose to be conservative because they wish to avoid twins are not penalized. "Similar multiple cycle packages currently offered by other clinics never guarantee the number of eggs that you receive, and often do not include the full range of even the first round of donor related costs (such as stipend, matching fees and insurance), which can be very stressful," said Dr. Doyle.
Clients who require both IVF and egg donation treatments, often in conjunction with surrogacy arrangements, will now be able to choose between single and unlimited cycle options, using an outside donor (often family or friend) or one who is matched and screened by CT Fertility; fresh or frozen eggs of various guaranteed quantities (5, 10 or 15); and even free embryos that other families donate. The lower end affordable plans will offer intended parents with limited needs and means frozen embryos and limited fresh or frozen egg sharing options which range from $9,900 to $19,500. "Our goal and motto for the new year is 'your family, your way' – which boils down to giving our clients what they truly need based on their specific goals and circumstances. This can translate into building the family that is right for you while reducing the cost and emotional burden of having a lot of extra eggs or embryos which so often go unused," said Dr. Doyle.
While adding new programs, the clinic will continue to provide several of the unique features which it announced last year. These include a guarantee for a minimum number of eggs across all applicable options, as well as automatic access to back-up eggs when needed (at no additional cost) -- both features which CT Fertility is uniquely positioned to offer due to its highly successful Frozen Donor Egg Bank. The guarantee is achieved by supplementing the number of eggs prospective parents receive if their chosen egg donor does not yield the expected number of eggs, and if they run out of viable embryos before they become pregnant. These free donor eggs can come either from the clinic's pool of cycling donors or from its Donor Egg Bank. The clinic will also continue to offer progressive discounts on frozen embryo transfers to people who do not choose the unlimited transfers plans, as an alternative means to assure their peace of mind. These parents who do not choose the unlimited package option and do not become pregnant on their first or second attempt are automatically offered a 50% discount on their next frozen embryo treatment, and subsequently get all their embryo transfers for free until they have a baby or run out of embryos. "We are proud that through hard work, dedication and the use of cutting edge technology we have achieved excellent IVF success rates," said Dr. Michael Doyle, the clinic's medical director. "However a small minority of our patients still needs more than one or even two attempts to become pregnant. This leaves a rare but troubling element of uncertainly and stress that we wish to eliminate with either an unlimited cycle package or the progressive discount policy."
"This year we will add one more innovative feature," said James Speer, the clinic's Egg Donation and Surrogacy Program Director. "We are now offering same-sex couples the option to freeze (also known as 'bank') a portion of their donor's eggs for future use at no additional cost, if they want to avoid 'committing' them to one biological father before they know how the first cycle turns out."
A crucial component that makes these features possible is CT Fertility's extensive Frozen Donor Egg Bank. With hundreds of high quality eggs from "super donors" with multiple previously successful cycles, this unique resource makes it possible to supplement shortfalls in fresh donations in real time. "After five years of operation, 50 babies now born, and ongoing success rates that are close to the national average for fresh eggs, we are now able to move forward and use the Donor Egg Bank to balance out and smooth everyone's journeys; supplement fresh donation in order to guarantee the number of eggs across the board; add eggs when people run out of embryos without resorting to expensive new fresh donations; give more flexibility to two-dad couples; and avoid cancellation of cycles due to last minute problems with fresh egg donations. The end result in all cases is reduced costs, increased certainty, and profound peace of mind," said Dr. Doyle.

About CT Fertility
Founded by Dr. Michael Doyle, CT Fertility specializes in Reproductive Medicine, Egg Donation and Surrogacy. Since 1991 CT Fertility has created over 5,000 babies for a diverse group of parents from around the world - including clients from over 30 countries, couples and singles, straight and gay, and spanning a wide range of ages. Based in Bridgeport, CT, and with offices in New York City, the clinic achieves exceptional results by coordinating every aspect of the medical process, all under one roof, including the finding and pre-screening of highly qualified and immediately available local egg donors and surrogates.
CT Fertility services include basic fertility testing and treatments, IVF, ICSI, pre-implantation genetic diagnosis (PGD), egg freezing and banking, and embryo donation. CT Fertility operates one of the oldest and most established IVF laboratories in the USA, with state-of-the-art technology, equipment, protocols, and access to the most currently available genetic technology. Through the early mastery of the vitrification freezing technology and other protocols, CT Fertility has also established one of the largest and most successful Donor Egg Banks in the world.
CT Fertility personalizes the parenting journey by offering a wide range of treatment and egg donation options, taking into account your long-term family vision, ethical, legal and financial considerations, personal relationships and priorities, and coping preferences.