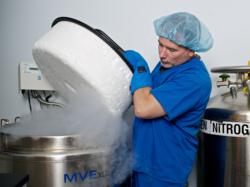 Rather than focusing on freezing eggs that may never be used, we need to think of ways to make the limited supply of donor eggs better serve the growing number of people who will need them, including infertile or older women, as well as gay and single men
Bridgeport, CT (PRWEB) November 01, 2012
Since the quality of a woman's eggs declines significantly with age, effective egg freezing technology has been long awaited and heralded for its potential to combat age-related infertility. These hopes have recently been rekindled when earlier this month the American Society for Reproductive Medicine (ASRM) and other researchers concluded that rapid egg freezing (oocyte vitrification) should no longer be considered experimental. However, based on his experience, Dr. Michael Doyle, the medical director of CT Fertility, believes that not enough women will ever opt to preserve their eggs soon enough to make a real difference. While his clinic does offers fertility preservation services (and recently introduced an anonymous online evaluation tool to encourage interested women make the decision to freeze their eggs earlier), Dr. Doyle thinks that the technology's primary value lies in the area of egg donation, specifically in its potential to more efficiently utilize the limited pool of available donor eggs.
"I am afraid I have no reason to assume that the number of egg donors will rise significantly, while there is much evidence that the demand for donor eggs will continue to grow," said Dr. Doyle. "Therefore rather than focusing on harvesting and freezing eggs that may never even be needed or used, we need to think of ways to make the limited supply of eggs better serve the growing number of people who will need them, including infertile or older women, as well as gay and single men. Freezing highly valued donor eggs makes the egg donation process less expensive and more efficient because we can use them on an as-needed basis, and create only enough embryos to meet each patient's needs."
For this reason CT Fertility has invested almost six years in building one of the world's largest donor egg banks from which eggs can be offered "off-the-shelf" at any quantity and at any time. With more than 50 babies already born and close to a thousand eggs in storage, the size and quality of CT Fertility's donor egg bank helps clients reduce costs, avoid cancellation of cycles due to problems with fresh egg donations, and ensures that all patients receive a guaranteed number of eggs even when choosing a fresh egg donation.
While he certainly understands the value of fertility preservation when applied prior to specific medical procedures or chemotherapy that could threaten ovarian function, Dr. Doyle does not believe that using egg freezing for non-medical reasons (career-related or other), even with its new non-experimental status, will ever be embraced widely enough to combat the growing age-related infertility epidemic. Harvesting and freezing eggs is still a costly and intrusive procedure, and in the case of young healthy woman, it requires an emotionally unpleasant decision that most women prefer to avoid, like whether they will ever find a partner, or if they do, whether they might still encounter infertility. "The truth is that if a woman is freezing and banking her own eggs early enough for it to make sense, it may seem like a needlessly expensive gamble, while if she is already at the age that her egg quality is a valid concern, it may be too late. I also wonder how many of the young women who preserve their eggs will ever end up actually using them," says Dr. Doyle, "because many end up having a child without help, and their frozen eggs were never actually needed." Meanwhile, according to Dr. Doyle, "the technology loses its impact in older women, which is a problem because the average age of the women who actually freeze their eggs is almost 38, the upper edge of the recommended range."
At the same time, Dr. Doyle also sees an opportunity to eliminate waste and inefficiency in the way fresh donor eggs are utilized. "Most egg donations today are based on the 'more is best' approach because when the eggs are harvested, no one really knows how many will fertilize, what the quality of the embryos will be, or whether pregnancy will even result. This strategy works in the short-term but in almost all instances many extra embryos are created which lead to decisions — often very challenging — later on regarding what to do with them."
Dr. Doyle suggests that donor egg banks like CT Fertility's hold the real promise to revolutionize reproductive medicine by making the egg donation process more modular and efficient, allowing patients to purchase as few or as many eggs as they need to achieve their specific family building goals, and providing strategies which avoid prematurely "committing" eggs into becoming embryos by fertilizing them all at the onset.
Since CT Fertility launched the Egg Bank in 2005, it was able to offer dozens of new parents the "frozen egg track", which offered people with limited egg donation needs lower costs and added flexibility by eliminating the need to synchronize both the donor and the recipient or carrier, and allowing easy sharing of large donations from proven donors. However the impact of the donor egg bank has since evolved to extend well beyond patients that choose this program directly. "Given the high quality of the donors and the eggs we select for freezing, the bank became a reliable back-up option in those cases where problems with fresh donations would have traditionally led to cycle cancellation," says Dr. Doyle. "The 'safety net' of our donor egg bank allows more intended mothers, especially older ones, to attempt to use their own eggs, even if these eggs are of uncertain quality, knowing that they can switch over to banked donor eggs even at the last minute to substitute (or supplement) their own eggs and avoid a last-minute cycle cancellation."
"We soon realized that if we grew the bank sufficiently, we could extend its potential to add flexibility and predictability across our entire egg donation and surrogacy practice," said Dr. Doyle. "We now offer all our egg donation patients a guaranteed number of eggs, resorting to eggs from the bank in the unlikely event that their thoroughly screened egg donor fails to provide enough fresh eggs." Eggs from the bank can also be used to only purchase some of the eggs a donor produces and put the rest "on hold" until the results of the transfer are known; to supplement or substitute a frozen embryo cycle, when the quality or quantity of the embryos is insufficient; to receive eggs from a proven egg donor who may no longer be donating; and to avoid freezing or destroying embryos on religious grounds.
"Achieving the critical size and consistent high success rates that made this model possible took a combination of technology, talent, experience, innovative protocols and time," said Dr. Doyle, who points to the large element of discretion in the process. "This process is as much an art as it is a science," he says. "Our embryologists make judgment calls about each egg they process. The discretion we exercise starts with the donor screening, continues with the embryologist's selection of the eggs they deem to be more likely to survive the process, and extends to using the ideal culture media and timing suitable for the conditions of each egg," explains Dr. Doyle. "To enjoy the peace of mind that our egg bank offers, people need to know not only that they come from "super donors" with multiple previously successful cycles, but also that the eggs they choose will thaw and fertilize well."
About CT Fertility
Founded by Dr. Michael Doyle, CT Fertility specializes in Reproductive Medicine, Egg Donation and Surrogacy. Since 1991 CT Fertility has created over 4,500 babies for a diverse group of parents from around the world - including clients from over 30 countries, couples and singles, straight and gay, and spanning a wide range of ages. Based in CT, the clinic also operates an office in Manhattan, which offers full access to its wide range of donor matching options, designed to maximize your results, choice and control. Dr Doyle's state-of-the-art reproductive services include IVF, ICSI, pre-implantation genetic diagnosis (PGD), egg freezing and banking, and embryo adoption. Through early mastery of the vitrification technology, CT Fertility has established one of the largest and most successful Donor Egg Banks in the world. The clinic achieves exceptional results by coordinating every aspect of the medical process, all under one roof, including the finding and pre-screening of highly qualified and immediately available local egg donors and surrogates.