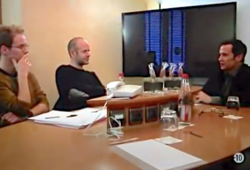 Regardless of the cultural obstacles they face, as long as French prospective parents are unable to get the help they need in their own country, we are determined to do our best to help them achieve their parenting dreams at CT Fertility
Bridgeport, CT (PRWEB) April 30, 2013
Just a week after right wing anti-gay and anti-surrogacy demonstrators tried to prevent him from meeting French prospective parents, Dr. Michael Doyle, CT Fertility's medical director, announced new hires and other steps to enhance services and accessibility to international clients. The announcement follows years of continued efforts to better understand and overcome the logistical challenges and diverse cultural and regulatory environments that international patients face. To that end Dr. Doyle has been traveling extensively to meet prospective parents in their home countries, and CT Fertility has been developing specific protocols and a growing international network of top quality doctors, labs and support service professionals. "This cooperation already allows clients to do much of the preliminary screening and monitoring work locally, and thereby reduce the amount of time they need to spend away from home, with the related expenses and stress of traveling to the US," said Dr. Doyle. Now the clinic is further streamlining interaction with international patients by hiring regional client service representatives in the UK, France and Israel. These reps will improve journey coordination and support, foster more cooperative arrangements with local complimentary providers and organizations, and conduct outreach and educational activities.
This international outreach is especially important in countries where surrogacy or egg donation are severely limited or restricted. However doing so can be especially challenging, and never more than earlier this month when Dr. Doyle was the target of insistent right-wing attacks in Paris during the last week of the marriage equality debate. As reported in Le Figaro on April 8, in an article titled "Une clinique de fertilité américaine recrute des clients à Paris", his visit to meet prospective patients caused a media ruckus, threats to him and the hotels where he was scheduled to stay and conduct the consultations, orchestrated attacks via Twitter on the clinic and hosting hotels, and even demonstrations in front of these hotels. "Some right wing activists even posed as potential clients in an attempt to 'expose' the location of our consults," reported Dr. Doyle, "and they subsequently summoned dozens who joined them to demonstrate against our hotel, forcing us to relocate not once... but twice! According to French lawyers and members of LGBT family groups we spoke with, the cause was the desire of opponents of gay rights to claim that marriage and adoption rights for gay couples will lead to a slippery slope of not just legalizing surrogacy, but all kind of horrific genetic experimentation, and other calamities." Indeed access to assisted reproduction is still very limited in France (especially but not exclusively for gays), and surrogacy arrangements are illegal and still widely frowned upon.
While additional American fertility and surrogacy centers also faced the fury of homophobic activists and even canceled their trips to Paris during this tense period, as reported by the aforementioned Le Figaro article, Dr. Doyle was determined to stick to his original plans, as were more than 15 couples who met with him, and as they did, also apologized in the name of their fellow Frenchmen for the commotion. "Regardless of the cultural obstacles they face, as long as French prospective parents are unable to get the help they need in their own country, we are determined to do our best to help them achieve their parenting dreams at CT Fertility," said Dr. Doyle. "We are very proud of what we do - the help we provide is not just perfectly legal and safe, it is also highly ethical. I congratulate our friends in France, many of who are gay parents or parents to be, for the final passage of the bills granting equal marriage and adoption rights to all. It was amazing to be there and see history unfold first hand."
The regional client service representatives include Richard Westoby in London, a former investment banker and a father of twins born through gestational surrogacy with the help of CT Fertility. The French and Israeli reps are also parents of children through surrogacy, and indeed the Israeli one, Mr. Tabak-Aviram, had his twin boys born just a few weeks ago, joining their 3 years old surrogacy daughter. "These deeply personal experiences and strong connections to their respective communities will be invaluable to our regional representatives, and we hope to be hiring even more highly motivated individuals like them for similar roles in other countries in the future," said Dr. Doyle.

---
About CT Fertility
Founded by Dr. Michael Doyle, CT Fertility specializes in Reproductive Medicine, Egg Donation and Surrogacy. Since 1991 CT Fertility has created over 5,000 babies for a diverse group of parents from around the world - including clients from over 30 countries, couples and singles, straight and gay, and spanning a wide range of ages. Based in Bridgeport, CT, and with offices in New York City, the clinic achieves exceptional results by coordinating every aspect of the medical process, all under one roof, including the finding and pre-screening of highly qualified and immediately available local egg donors and surrogates.
CT Fertility services include basic fertility testing and treatments, IVF, ICSI, pre-implantation genetic diagnosis (PGD), egg freezing and banking, and embryo donation. CT Fertility operates one of the oldest and most established IVF laboratories in the USA, with state-of-the-art technology, equipment, protocols, and access to the most currently available genetic technology. Through the early mastery of the vitrification freezing technology and other protocols, CT Fertility has also established one of the largest and most successful Donor Egg Banks in the world.
CT Fertility personalizes the parenting journey by offering a wide range of treatment and egg donation options, taking into account your long-term family vision, ethical, legal and financial considerations, personal relationships and priorities, and coping preferences.