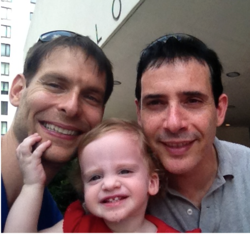 The new reps will become an easily accessible resource of reliable information and clear advice, and improve the experience of European and Israeli couples and individuals throughout every step of the surrogacy journey.
Bridgeport, CT (PRWEB) May 30, 2013
CT Fertility today announced the appointment of Richard Westoby as its UK-based European client service representative, and that of Alon Tabak Aviram as its client service representative in Israel. Both men are former clients and fathers through surrogacy. The appointment of Richard and Alon, along with the upcoming appointment of a client service representative in France, is part of several steps CT Fertility is taking to enhance services and accessibility to international clients.
According to Dr. Michael Doyle, CT Fertility's medical director, "the various cultural and regulatory challenges that international patients face can be significantly minimized by instituting specific protocols which can then be supported by the international network of top quality doctors, labs and support service professionals which CT Fertility has established. The new regional representatives will work with such local providers and organizations to improve journey coordination and support, foster more cooperative arrangements, and conduct outreach and educational activities to prospective parents."
Based in London, Richard with his partner became the parents of twins in September 2012. While Richard felt that their surrogacy agency could have managed the process better and with more transparency, he was pleased with the professional and personal support of Dr. Doyle and the CT Fertility team. Indeed it took only one IVF attempt to achieve the desired twin pregnancy and the birth of a healthy boy and girl. "As a patient I gained first-hand experience of the IVF process and the workings of surrogacy, and came to appreciate CT Fertility's unique approach to helping international clients," said Richard. "In breaking down the steps required into their component parts, explaining the options available and ultimately viewing each new patient's situation holistically, Dr. Doyle is effectively empowering prospective parents to make the most informed decisions possible about starting a family."
Alon Tabak Aviram and his partner Ilan embarked on their dream of parenthood seven years ago. Unfortunately their journey started with two failed attempts in India, and even when they decided to turn to surrogacy in the USA, their journey was still rocky. One surrogate they were matched with had to retract her contract after her marriage ended, another was a no-show, and a third failed to get pregnant. Luckily Alon and Ilan did not despair, and were encouraged by the determination of Dr. Doyle and his team to make their dream come true. Indeed in June 2011 they finally became parents to their daughter, Ella. The special relationships they forged with their surrogate, Dr. Doyle and CT Fertility, encouraged them to continue with this winning team for a sibling journey, and in early May 2013 the happy family returned to their home in Israel with newborn twin boys Matan and Tomer. "We feel blessed to have the family of our dreams, and we also gained dear friends along the way," said Alon. "Our experience taught us the importance of not just finding the most professional medical team, but also one that can provide encouragement and personal support along what can be a bumpy ride."
Now acting as CT Fertility's regional client service representative, Richard and Alon will play a critical role in creating similar successful IVF and surrogacy journeys of fellow prospective parents, while adding no additional fees or expenses to the process. "We believe that as local resources Alon and Richard can further enhance the ability of CT Fertility to provide valued support to Israeli, UK and other European intended parents," said Dr. Doyle. "They will become an accessible resource of reliable information and clear advice, and improve the experience of couples and individuals throughout every step of the IVF and surrogacy journey," he said. "I hope that by acting as a local 'go-to' person I could be of immeasurable help," said Richard, "including after the family returns home, when a whole different set of legal and other questions emerge."
The role of the new reps will also include outreach to people who consider this parenting route. "I intend to offer my personal experience as proof to CT Fertility's attention to the people and the complex process they are undergoing, and not just their embryos and eggs," said Alon. Richard and Alon will present prospective parents with clear and up to date information about the various parenting options CT Fertility offers, and with the help of other professionals and surrogacy parents, they will provide information and support on a special section on the clinic's web site, dedicated Facebook groups, and via local support groups.
CT Fertility's new regional representatives will also facilitate the clinic's efforts to extend and enhance professional ties with supplementary service providers in their countries, and provide advice and referrals to local clients when they require these services. This cooperation already allows clients to do much of the preliminary screening and monitoring work locally, and thereby reduce the amount of time they need to spend away from home, with the related expenses and stress of traveling to the US.

About CT Fertility
Founded by Dr. Michael Doyle, CT Fertility currently provides international surrogacy and egg donation services to patients (straight and gay) from over thirty countries worldwide. Since 1991 CT Fertility has created over 5,000 babies for parents from countries like the UK, France, Spain, Germany, Switzerland and Sweden where surrogacy and egg donation are severely restricted or even prohibited. Close relationships with UK international lawyers, medical experts and other community organizations have enabled CT Fertility to make the process safe, easy and affordable regardless of where you live. Based in Bridgeport, CT, and with offices in New York City, the clinic achieves exceptional results by coordinating every aspect of the medical process, all under one roof, including the finding and pre-screening of highly qualified and immediately available local egg donors and surrogates.
CT Fertility services include basic fertility testing and treatments, IVF, ICSI, pre-implantation genetic diagnosis (PGD), egg freezing and banking, and embryo adoption. CT Fertility operates one of the oldest and most established IVF laboratories in the USA, with state-of-the-art technology, equipment, protocols, and access to the most currently available genetic technology. Through the early mastery of the vitrification freezing technology and other protocols, CT Fertility has also established one of the largest and most successful Donor Egg Banks in the world.
CT Fertility personalizes the parenting journey by offering a wide range of treatment and egg donation options, taking into account your long-term family vision, ethical, legal and financial considerations, personal relationships and priorities, and coping preferences.