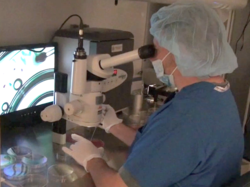 To enjoy the peace of mind that our egg bank offers, people need to know not only that the eggs come from 'super donors' with multiple previously successful cycles, but also that the eggs they choose will thaw and fertilize well.
(PRWEB) April 23, 2012
Five years ago, when he recruited the top embryologist in the emerging field of oocyte vitrification, Dr. Michael Doyle had a vision. It was becoming clear that with time, this rapid-freeze technique would achieve much better results than the slower freeze methods that have been used at the time. However CT Fertility's medical director also realized that this could have much broader implications for his large egg donation practice, beyond the traditional use of freezing a woman's own eggs for her own fertility preservation. He envisioned building a large enough donor egg bank such that eggs could be offered "off-the-shelf" at any quantity and any time. Indeed five years later this vision has become a reality, with over fifty babies born with eggs from CT Fertility's bank, close to a thousand eggs in storage at any point of time, and success rates that are close to the national average for fresh eggs. By eliminating the need to synchronize both the donor and the recipient or carrier, and allowing easy sharing of large donations from proven donors, dozens of new parents already benefited from the added flexibility, lower costs, and increased choices the egg bank offers.
In fact, the impact of the donor egg bank has since evolved to extend well beyond patients that choose this program directly. "Given the high quality of the donors and the eggs we select for freezing, the bank became a reliable back-up option in those cases where problems with fresh donations would have traditionally led to cycle cancellation," says Dr. Doyle. "The 'safety net' of our donor egg bank allows more intended mothers, especially older ones, to attempt to use their own eggs, even if these eggs are of uncertain quality, knowing that they can switch over to banked donor eggs even at the last minute to substitute (or supplement) their own eggs and avoid a last-minute cycle cancellation." Eggs from the bank can also be used when a fresh egg donation is either canceled or fails to produce enough quality eggs; to supplement or substitute a frozen embryo cycle, when the quality or quantity of the embryos is insufficient; to receive eggs from a proven egg donor who may no longer be donating; and to avoid freezing or destroying embryos on religious grounds.
"We soon realized that if we grew the bank sufficiently, we could extend the potential of the donor egg bank to add flexibility and predictability across our entire egg donation and surrogacy practice," said Dr. Doyle. "We now offer all our egg donation patients a guaranteed number of eggs, resorting to eggs from the bank in the unlikely event that their thoroughly screened egg donor fails to provide enough fresh eggs."
"Achieving the critical size and consistent high success rates that made this model possible took a combination of technology, talent, experience, innovative protocols and time," said Dr. Doyle. It started five years ago with the recruitment of two embryologists that were part of the team that achieved the first pregnancy in the USA from vitrified eggs. One of them is Dr. Ed Stehlik, currently CT Fertility's IVF Lab Director. "Oocytes are much more fragile than embryos and as a result are much more difficult to freeze and thaw successfully," he explains. The vitrification process minimizes the formation of damaging ice crystals by using high concentrations of cryoprotectant with rapid freezing to solidify the cell. The frozen eggs are then flash-frozen in a tiny droplet of media on a very thin plastic stick. "The previous 'slow freezing' methods resulted in an average of less than 50% survival rate after thawing, while clinics that use the new 'flash freeze' vitrification process currently average about 65% survival rate," says Dr. Stehlik. "However, most fertility centers still do not do any egg freezing, and only half that do use the new technology. They tend to buy the media from lab supply companies and closely follow the protocol provided by them. We have been able to increase the survival rate to 90% by developing our own media and adjusting the timing of the process in real time by as much as +/-30% based on our assessment of each egg's condition."
Dr. Doyle also points to the large element of discretion in the process. "Just like any creative process, it is as much an art as it is a science," he says. "Our embryologists make judgment calls about each egg they process, including which eggs to select for freezing, and when to freeze them." Additional discretion is exercised by adding two layers of selectivity: only about 10-15% of the donors approved for a fresh donation are invited to contribute eggs to the bank, and only their best, most mature eggs are frozen. "The discretion we exercise starts with the donor screening, continues with the embryologist's selection of the eggs they deem to be more likely to survive the process, and extends to using the ideal culture media and timing suitable for the conditions of each egg," explains Dr. Doyle. "To enjoy the peace of mind that our egg bank offers, people need to know not only that they come from "super donors" with multiple previously successful cycles, but also that the eggs they choose will thaw and fertilize well."
Sven and Anna Strommen from Iceland are an example of a couple that benefited from CT Fertility's ability to "rescue" a cycle with the help of the donor egg bank. Unable to carry children due to a severe medical condition, Anna was seeking the help of a surrogate in order to become a parent. However soon after arriving to CT for the retrieval in the fall of 2011, they learned that their designated egg donor (in her first attempt) was not responding well and was developing few mature eggs. The seemingly unavoidable cancelation of the cycle, after their surrogate had already received her medications and they already travelled to the USA, could have resulted in a major delay and additional costs. The couple was relieved to learn about the donor egg bank and chose a suitable candidate who had 14 available eggs. The thawed eggs were fertilized with Sven's sperm and two blastocysts were transferred five days later into their surrogate and resulted in a twin pregnancy. "We are so appreciative that the egg thawing technology is now available and proven," said Anna. "If it weren't for this we would not have been able to benefit from the frozen egg bank at the last minute like we did. We couldn't be more blessed."
The experience of Bill and Rob Green from NJ demonstrates how the egg bank can allow clients to have siblings from the same donor even when she might not be available or have exceeded the ideal egg donation age. The couple had their first surrogacy son in 2009, and in 2011 they came back to CT Fertility for a sibling. However the handful of frozen embryos they had from previous cycles were not of high quality. Instead of the standard protocol of attaining a new fresh egg donation, Dr. Doyle suggested that they supplement their next transfer with eggs from the bank. Indeed their original egg donor still had over 20 eggs stored in the bank, and using ten of them, they eventually ended up with three suitable embryos, which resulted in the birth of their second child in April 2012. "If it weren't for Dr. Doyle offer we would have had to spend an additional $20,000 or so," insists Rob. "Instead he only charged us for the lab fees and the cost of the transfer, which was an extremely generous thing for him to do." "Every step of the way, Dr. Doyle and the staff had their heart in it... Given the financial and emotional high stakes associated with surrogacy, you couldn't find a better cheerleader than Dr. Doyle."