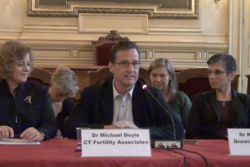 Topics such as cloning and birth defects are not specific to surrogacy and should not be used to attack the very valid notion of surrogacy which we hope you can as a culture embrace.
Paris, France (PRWEB) September 28, 2011
Surrogacy in France is illegal and still controversial, yet an increasing number of French people who cannot have children on their own are turning to various surrogacy and egg donation arrangements abroad. Attempts to change the law are hotly debated and even presidential candidates are taking sides. Yet in a recent groundbreaking Paris conference hosted by the French organization ADFH, several American and French experts weighed in for the first time not on the merits of the practice, but on how it could be done in a more ethical manner. While political debates often over-simplify, "every surrogacy journey is different," said Dr. Michael Doyle, an American IVF and surrogacy expert, as he laid out the ways clinics, agencies and prospective parents can assert control and shape their surrogacy journey in line with their moral convictions.
The "Ethical Surrogacy Journeys" seminar took place on September 19, 2011, in a packed wedding hall at Paris's 3ème municipal building. In addition to Dr. Michael Doyle, the panel also included Karen Synesiou of Center for Surrogate Parenting, Dr. Kim Bergman, a psychologist who works with parents and surrogates at the Growing Generations agency, Colleen Iversen, an American surrogate mother, Alexandre Urwicz and Hervé Lancelin, co-presidents of ADFH, Dominique Mennesson, a French parent and the president of CLARA, and the French sociologist Irène Théry.
"We must remember, realize and embrace that this is not just a financial transaction, that this is much more than a sequence of medical procedures, since we are creating new families and bonding existing families to each other," said Dr. Doyle. "The role of the medical clinic is to maximize the efficiency and quality of the services, minimize the risk that each party is subjected to, and to control the costs of that process. It is essential that the physician fully informs everyone involves concerning the medical steps, alternatives and risks", he added, "even though fortunately these risks are now extremely rare and can be further minimized with adequate screening, tests and treatment protocols." For instance, "minimizing the risk for surrogates involves transferring the fewest number of embryos of the highest quality, which increasingly in the United States is a single embryo transfer. It is also important that we support and consider the well being of all the parties, including the surrogate's entire family, and the future children that will result from the decisions that we make today," said Dr. Doyle.
Colleen Iversen shared her experience being a two-time gestational surrogate for a couple that with severe infertility problems. As one of the CT Fertility's staff she witnessed the couple's failed attempts have a baby on their own, until she finally stepped up and offered to become the couple's surrogate herself. "I didn't do this for financial gain," said Colleen. Similarly to many gestational surrogates she met working at the clinic, Colleen had several easy pregnancies carrying her own children, and felt empathy towards this couple and a strong urge to help fulfill their dream of becoming parents. "Was I compensated? Yes. But was I putting my body through risks? Yes. My 5th and final pregnancy resulted in hospital bed rest where I was unable to care for my children, unable to go to work, and the health of the baby inside of me became my sole focus until the birth," she recounted. Indeed she understands why the financial compensation is something that intended parents insist on: "if they hadn't paid me I think they would have felt terrible putting me through all those cycles, and would have given up prematurely." Despite the medical risks and hardships, looking back at her experience Colleen stated that she was honored to be a surrogate and "knowing that I have forever changed the lives of one family will never lead me to regret my decision to do this."
Questions from the audience included requests for practical advise, but also concerned that surrogates may be exploited, perhaps by business women who may wish to hire a surrogate just to avoid disrupting their careers. Both Karen Synesiou of CSP and Dr. Doyle clarified that such women will not be accepted to their program, as prospective parents are also screened for their motivation and their willingness to support and treat the surrogate with respect. "There will always be unscrupulous people who may wish to exploit and take advantage of others, and it is the responsibility of those of us in the practice to maintain the highest possible ethical and professional standards and refuse to cooperate in these individuals," replied Dr. Doyle and was greeted by applause from the audience. He challenged the self-declared feminist who asked the question not to doubt the ability of other women to make decisions that are in their best interest. "I speak from my experience with the numerous women I have worked with, as Colleen has just articulated, who say surrogacy has been one of the most empowering experiences of their life."
Another questioner voiced concerns about babies that may be abandoned due to birth defects, and that surrogacy could lead to more questionable practices like cloning. "It is easy to take a topic like surrogacy that may seem different and challenging, and link it to things like cloning, birth defects, or embryo biopsy, that are not specific to surrogacy," replied Dr. Doyle. "These may be worthy topics for ethical discussion some other time, but should not be used to attack the very valid notion of surrogacy which we hope you can as a culture and as a nation embrace."

About CT Fertility
Founded by Dr. Michael Doyle, CT Fertility specializes in Reproductive Medicine, Egg Donation and Surrogacy. Since 1991 CT Fertility has created over 4,500 babies for a diverse group of parents from around the world - including clients from over 30 countries, couples and singles, straight and gay, and spanning a wide range of ages. Based in Bridgeport, CT, and with offices in New York City, the clinic achieves exceptional results by coordinating every aspect of the medical process, all under one roof, including the finding and pre-screening of highly qualified and immediately available local egg donors and surrogates.
CT Fertility services include basic fertility testing and treatments, IVF, ICSI, pre-implantation genetic diagnosis (PGD), egg freezing and banking, and embryo adoption. CT Fertility operates one of the oldest and most established IVF laboratories in the USA, with state-of-the-art technology, equipment, protocols, and access to the most currently available genetic technology. Through the early mastery of the vitrification freezing technology and other protocols, CT Fertility has also established one of the largest and most successful Donor Egg Banks in the world.
CT Fertility personalizes the parenting journey by offering a wide range of treatment and egg donation options, taking into account your long-term family vision, ethical, legal and financial considerations, personal relationships and priorities, and coping preferences.
###