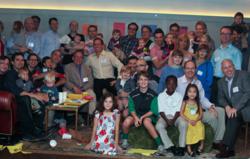 "I see the broad attendance in the conferences as a vote of confidence in USA surrogacy by gay men worldwide."
Bridgeport, CT (PRWEB) October 31, 2011
Dr. Michael Doyle, founder and medical director of CT Fertility, has just returned from a series of events around the world focused on practical, medical and moral aspects of the use of surrogacy and egg donation for LGBT family building. Dr. Doyle has long been regarded as one of the preeminent experts in the use of advanced reproductive technologies for alternative family creation, as over 4,500 babies have been born to parents from over 30 countries who have been successfully treated by his clinic, an increasing number of them for LGBT families. In turn, gay community organizations regularly turn to Dr. Doyle for advice, and three of them invited him this autumn to attend conferences for prospective parents and social gatherings where he met many of the families he helped create.
Taking place in New York, London and Paris, these global events are indicative of the growing trend within the LGBT community of same-sex couples and singles starting families, while the degree of social and legal acceptance towards surrogacy and gay parenting still varies considerably throughout the world.
The "Men Having Babies" Conference, organized by the New York LGBT Community Center, on October 2nd, 2011, had Dr. Doyle speak about the medical aspects associated with gestational surrogacy. Dr. Doyle is a regular at this widely attended event and the huge support given to same-sex intended parents by the New York LGBT Community Center is indicative of the long tradition of gay parenting that exists in the city, a place where LGBT families are prevalent and widely accepted. In fact, the day before the conference Dr. Doyle hosted a reunion party for dozens of gay headed families CT Fertility had helped create in NY City alone (see image).
Dr. Doyle was also invited to London to speak at the "Alternative Families Show" and co-host a gathering for surrogacy families with the community organization "Gay Surrogacy UK." This was the second event of its kind in the United Kingdom and reflects a growing interest in gay parenting beyond United States borders. At the September 17 conference Dr. Doyle spoke about the latest medical technologies, screening practices and legal strategies to ensure a successful and hassle-free surrogacy experience. He also offered advice on how prospective parents can tailor their surrogacy journey to fit their personal goals, values, circumstances and financial resources.
Finally, in France, a place where gay parenting is still not as widely accepted, Dr. Doyle, was invited by the French Association of LGBT Families (ADFH) to participate in a groundbreaking seminar on "Ethical Surrogacy Journeys", which took place on September 19, 2011. In his presentation, Dr. Doyle helped demystify gestational surrogacy, a practice that is still outright illegal and a source of great controversy that engenders enormous political debate in France. Regardless of societal objections, hundreds of gay men from France have been turning to surrogacy in the USA, and Dr. Doyle was delighted to meet many of them at the local social gathering co-hosted with ADFH the day before.
"I was moved by the reunion parties and social gatherings we attended in London, Paris and NY, as they demonstrated how fortunate we have been to contribute to the creation of new parenting communities worldwide," said Dr. Doyle. "I see the broad attendance in the conferences as a vote of confidence in this parenting method," he said, "and I was encouraged to see the development in community support networks for both prospective and existing families, to which we will continue to assist in whichever way we are asked."
In addition to frequently speaking at medical meetings and community seminars, Dr. Doyle has authored numerous articles, research papers and book chapters, and acts as the resident expert on prominent community and professional portals including Fertility Authority, Family Equality Council, Proud Parenting, Surromoms Online, and Center Families.
> For more information about CT Fertility please visit http://www.CTFertility.com
> For video clips from the London and Paris seminars and reunion parties, go to http://www.YouTube.com/CTFertility
> For video clips from the Men Having Babies seminar in NYC, please go to http://www.YouTube.com/MenHavingBabies
About CT Fertility
Founded by Dr. Michael Doyle, CT Fertility specializes in Reproductive Medicine, Egg Donation and Surrogacy. Since 1991 CT Fertility has created over 4,500 babies for a diverse group of parents from around the world - including clients from over 30 countries, couples and singles, straight and gay, and spanning a wide range of ages. Based in Bridgeport, CT, and with offices in New York City, the clinic achieves exceptional results by coordinating every aspect of the medical process, all under one roof, including the finding and pre-screening of highly qualified and immediately available local egg donors and surrogates.
CT Fertility services include basic fertility testing and treatments, IVF, ICSI, pre-implantation genetic diagnosis (PGD), egg freezing and banking, and embryo adoption. CT Fertility operates one of the oldest and most established IVF laboratories in the USA, with state-of-the-art technology, equipment, protocols, and access to the most currently available genetic technology. Through the early mastery of the vitrification freezing technology and other protocols, CT Fertility has also established one of the largest and most successful Donor Egg Banks in the world.
CT Fertility personalizes the parenting journey by offering a wide range of treatment and egg donation options, taking into account your long-term family vision, ethical, legal and financial considerations, personal relationships and priorities, and coping preferences.
###