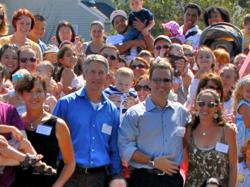 We are proud to partner with the friendly and knowledgeable fertility financing specialists at CapexMD, the only program of its kind to specialize in fertility practices exclusively.
Bridgeport, CT (PRWEB) November 22, 2011
CT Fertility, a leading provider of egg donation and surrogacy services worldwide, has partnered with CapexMD to provide affordable and convenient financing solutions for fertility treatments and medications.
CT Fertility is the only clinic in the CT and NY region to offer patient financing through CapexMD, which works with a select number of practices in each region. "We are proud to partner with the friendly and knowledgeable fertility financing specialists at CapexMD," says Dr. Michael Doyle, the clinic's medical director. "Together, CT Fertility and CapexMD will cooperate to make the process of financing fertility treatment easier, faster and more widely accessible to prospective parents."
Though general medical financing is offered by a number of companies, CapexMD is the only program of its kind to specialize in fertility practices exclusively. This allows the payment plans to be tailored specifically to fertility treatment. It is also the only program that provides financing to cover the cost of fertility drugs, which often amount to a significant share of the overall costs. "These criteria were critical in our decision to partner with CapexMD," said Dr. Doyle, "as was the fact that they do not sell the loans to third-party servicing agencies after they originate them. This assures us that our patients will enjoy long-term service by staff that is knowledgeable not only about the terminology used, but also the sensitivity required when a patient is undergoing infertility treatments."
In addition to the exclusive focus on fertility, CT Fertility chose CapexMD for its low fees, quick approval process and favorable financing rates. The application process is completely paperless and patient confidentiality is considered absolutely essential.
"Because CT Fertility understands that infertility can take a financial toll on prospective parents, many of our single and multi-cycle packages reflect our dedication to making fertility services more accessible for those who seek to begin their family-building journeys," said Dr. Doyle. "Our financial counselors are always available to discuss treatment costs and to provide assistance with securing insurance coverage, when applicable."

About CT Fertility:
Founded by Dr. Michael Doyle, CT Fertility specializes in Reproductive Medicine, Egg Donation and Surrogacy. Since 1991 CT Fertility has created over 4,500 babies for a diverse group of parents from around the world - including clients from over 30 countries, couples and singles, straight and gay, and spanning a wide range of ages. Based in Bridgeport, CT, and with offices in New York City, the clinic achieves exceptional results by coordinating every aspect of the medical process, all under one roof, including the finding and pre-screening of highly qualified and immediately available local egg donors and surrogates.
CT Fertility services include basic fertility testing and treatments, IVF, ICSI, pre-implantation genetic diagnosis (PGD), egg freezing and banking, and embryo adoption. CT Fertility operates one of the oldest and most established IVF laboratories in the USA, with state-of-the-art technology, equipment, protocols, and access to the most currently available genetic technology. Through the early mastery of the vitrification freezing technology and other protocols, CT Fertility has also established one of the largest and most successful Donor Egg Banks in the world.
CT Fertility personalizes the parenting journey by offering a wide range of treatment and egg donation options, taking into account your long-term family vision, ethical, legal and financial considerations, personal relationships and priorities, and coping preferences.
# # #