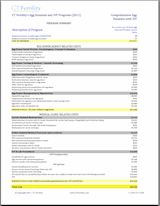 CT Fertility is able to guarantee egg quantities due to the advanced vitrification technology and protocols that allowed it to build one of the largest and most successful Egg Banks in the world.
Bridgeport, CT (PRWEB) July 29, 2011
CT Fertility, one of the leading fertility and egg donation centers in the United States, announced the launch of unprecedented Egg Donation and IVF programs that include several guaranteed quantities of viable eggs. The new plans are designed to better meet the family creation needs of today's prospective parents, whether straight, gay, singles, couples, living in the USA or abroad. CT Fertility is able to guarantee egg quantities thanks to the high quality of its carefully screened egg donors, and by supplementing any shortfall with frozen eggs from its Egg Bank, one of the largest and most successful in the world. "Advances in medical technology, screening and support protocols allow CT Fertility to create a wider variety of plans to better suit the different goals, circumstances and values of the prospective parents we help," said Dr. Michael Doyle, the clinic's medical director.
The programs vary in the number and source of the donated eggs: from a full fresh donation of 20-25 eggs, through reduced cost options of 12 fresh or 10 frozen eggs, and even an embryo adoption option. A new Four Cycle Inclusive Package, designed to maximize success rates while controlling overall cost, offers up to 25 eggs and four embryo transfers for a flat fee. Common to all is the unique feature of a guaranteed number of viable eggs which are offered in each program. CT Fertility is able to provide this guarantee due to the advanced vitrification technology and protocols that allowed it to build one of the largest and most successful Egg Banks in the world. Thus high-quality eggs from the bank can be used to supplement any shortfall in the number of eggs an intended parent receives from their designated egg donor.
Besides the choice among the various programs, CT Fertility's staff guides prospective parents in making additional decisions to further customize their family building journey. These include whether to transfer one or more embryos, the possible use of embryo testing for genetic screening or gender selection, and moral concerns about freezing or discarding embryos.
"Twenty years of experience have allowed us to listen to thousands of clients about their needs and concerns, and to develop unique options and protocols to meet those needs," said Dr. Doyle. "Medical talent, training and technology are not always enough to build the family of your dreams. At CT Fertility we guarantee that every family receives the most personal attention possible, a customized treatment plan to suit their goals and circumstances, and direct access to our top talent at all times."

About CT Fertility
Founded by Dr. Michael Doyle, CT Fertility specializes in Reproductive Medicine, Egg Donation and Surrogacy. Since 1991 CT Fertility has created over 4,500 babies for a diversity of parents from around the world - including clients from over 30 countries, couples and singles, straight and gay, and spanning a wide range of ages. Based in Bridgeport, CT, and with offices in New York City, the clinic achieves exceptional results by coordinating every aspect of the medical process, all under one roof, including the finding and pre-screening of highly qualified, safe, and immediately available local egg donors and surrogates.
CT Fertility services include basic fertility testing and treatments, IVF, ICSI, pre-implantation genetic diagnosis (PGD), egg freezing and banking, and embryo adoption. CT Fertility operates one of the oldest and most established IVF laboratories in the USA, with state-of-the-art technology, equipment, protocols, and access to the most currently available genetic technology. Through the early mastery of the vitrification freezing technology and other protocols, CT Fertility has also established one of the largest and most successful Donor Egg Banks in the world.
CT Fertility personalizes the parenting journey by offering a wide range of treatment & egg donation options, taking account of your long-term family vision, ethical, legal and financial considerations, personal relationships and priorities, and coping preferences.
###