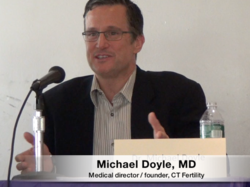 "In the days prior to the conference, Dr. Doyle will be holding free private consultations in Barcelona with prospective parents, and host a reunion party for the clinic's Europeans alumni that will be in town for the conference."
Bridgeport, CT (PRWEB) February 17, 2012
As a sign of the growing interest in surrogacy as a parenting alternative for gay European, an unprecedented conference will take place in Barcelona this April. The "Men Having Babies Surrogacy Seminar and Expo" is offered for the first time in Europe based on a similar program that has been running in NY for the last seven years. CT Fertility's medical director, Dr. Michael Doyle, who has spoken several times at the NY seminar, was invited to speak as the medical expert on the panel of the Barcelona seminar. The event is organized by the Network of European LGBT Family Associations (NELFA) on April 29, 2012, as part of a 4-day conference and family gathering expected to attract hundreds of LGBT parents and parents-to-be from across the continent.
The full day elaborate seminar and exhibit will offer a comprehensive "how-to" program for gay men who want to become parents. Dr. Doyle will be part of a panel of medical, psychological, and legal experts to provide an overview of the entire surrogacy process for gay men, with an emphasis on relevant considerations to Europeans. An American surrogate and European parents will discuss their personal experiences. Prospective parents and LGBT family activists will also have opportunities to learn about more than a dozen service providers at the Gay Parenting Services Exhibit before and after the seminar. In addition, CT Fertility is hosting a panel about the ethical questions often raised regarding surrogacy, including medical and psychological risks, the motivations and possible exploitation of the surrogates. Dr. Doyle will discusses ethical decisions in IVF, egg donation and surrogacy; how to protect, inform and maximize long term well being of all the parties including egg donors, surrogates, and future children. Alongside with Dr. Doyle the ethics panel will also feature Jamie Speer, M.S., the clinic's genetic counselor and surrogacy program director, and several international gay fathers.
While prospective parents are encouraged to join the hundreds of families attending the gathering for its full length, a one-day attendance including meals is offered for a small fee. "I plan to attend the family gathering and the surrogacy seminar along with several members of our staff," Said Dr. Doyle. "We already heard of several of our former clients who will be attending with their children, and we look forward to seeing them again, said Dr. Doyle. "In fact, on the Friday before the conference we plan to host a reunion party in Barcelona for our European alumni that will be in town for the conference."
"We highly recommend that prospective parents join us for the full four day gathering," said Elisabeth Vendrell, president of FLG, the hosting LGBT Families organization in Catalonia. "If you are either prospective parents or already have children, the LGBT Families gathering can be a terrific opportunity to meet hundreds of parents and parents-to-be from more than a dozen countries." The organizers expect about 800 participants (having already received more than 400 bookings), and the group will take over a hotel in the resort town of Lloret de Mar, to enjoy a combination of social, educational and fun activities, including sightseeing excursions in Barcelona and elsewhere. "Thanks to the generous support of government and private sponsors this all-inclusive program is also very affordable," said Ms. Vendrell, "a typical family of four will only spend about €300 including all meals and excursions."
In the days prior to the conference, Dr. Doyle will be holding free private consultations in Barcelona with prospective parents seeking further details about gestational surrogacy and egg donation performed in the United States. To schedule a consultation please email: jamie.speer(at)ctfertility(dot)com.

About CT Fertility
Founded by Dr. Michael Doyle, CT Fertility specializes in Reproductive Medicine, Egg Donation and Surrogacy. Since 1991 CT Fertility has created over 4,500 babies for a diverse group of parents from around the world - including clients from over 30 countries, couples and singles, straight and gay, and spanning a wide range of ages. Based in Bridgeport, CT, and with offices in New York City, the clinic achieves exceptional results by coordinating every aspect of the medical process, all under one roof, including the finding and pre-screening of highly qualified and immediately available local egg donors and surrogates.
CT Fertility services include basic fertility testing and treatments, IVF, ICSI, pre-implantation genetic diagnosis (PGD), egg freezing and banking, and embryo adoption. CT Fertility operates one of the oldest and most established IVF laboratories in the USA, with state-of-the-art technology, equipment, protocols, and access to the most currently available genetic technology. Through the early mastery of the vitrification freezing technology and other protocols, CT Fertility has also established one of the largest and most successful Donor Egg Banks in the world.
CT Fertility personalizes the parenting journey by offering a wide range of treatment and egg donation options, taking into account your long-term family vision, ethical, legal and financial considerations, personal relationships and priorities, and coping preferences.
###