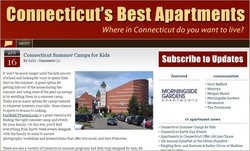 …mRELEVANCE…because all MARKETING should be RELEVANT…
Atlanta, GA (Vocus) April 28, 2009
mRELEVANCE, LLC announces http://www.ConnecticutBestApartments.com, a blog that helps potential apartment renters in Connecticut find their perfect apartment home. The site features news and information on a number of apartments in the Stamford, New Haven, Norwalk, Hamden, Branford and Strawberry Hill areas. If you are looking for an apartment close to school or work, this site is the resource to help locate it.
The blog is part of a social media marketing strategy launched by mRELEVANCE as a social media optimization tool for http://www.CTBestApts.com.
Mitch Levinson, MIRM, CSP, MBA, managing partner of mRELEVANCE, LLC, comments, "The new blog plays a key role in the social media marketing program we are building. As competition becomes more intense in the apartment industry, savvy developers are turning to search engine optimization to attract renters searching online for the perfect apartment."
Sign up for ongoing updates from ConnecticutBestApartments by visiting
http://feeds2.feedburner.com/ConnecticutApartments
About CTBestApts.com
CTBestApts.com features six of Connecticut's best apartment communities: Hoyt-Bedford, Montoya, Morgan Manor, Morningside Garden, Seramonte and Townhouse. Located in sought-after locations including Stamford, Branford, Norwalk and Hamden, these luxury Connecticut apartment communities are ideal for residents looking to lead a social and active lifestyle. Beautiful landscaping and outdoor amenities allow residents to spend time with family and friends while enjoying their natural surroundings. Whether looking for a studio, townhouse or gated apartment community, renters are sure to find their perfect Connecticut apartment at CTBestApts.com. For more information on these affordable luxury apartments in Connecticut, visit their individual Web sites at CTBestApts.com.
About mRELEVANCE
mRELEVANCE, LLC, is a public relations, Internet marketing and social media firm designed to meet client needs in a changing marketplace by building online and off line relationships that are relevant to client success. Combining the talents and resources of public relations and social media firm Flammer Relations with the power of Internet marketing services at MLC New Home Marketing, mRELEVANCE implements a combination of traditional PR services and up-to-date Web 2.0 tools (e-mail marketing, search engine optimization, social media and others) to create relevant results for clients.
With offices in Atlanta and Chicago, we can connect your company with buyers and build relevant relationships nationwide. For more information, visit http://www.mRELEVANCE.com or call 770-383-3360 or 847-259-7312.
"…mRELEVANCE…because all MARKETING should be RELEVANT…"
Contact:
Carol Flammer
770-383-3360 ext. 20
carol(at)mRELEVANCE.com
###