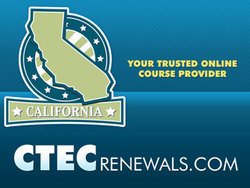 This course is the best deal in the state
Los Angeles, CA (PRWEB) August 5, 2009
California tax preparers are reminded that registration is now open for the 2010/2011 renewal cycle, now is the time to complete their continuing education hours. If a tax preparer has already completed the continuing education requirements (12 hours federal, 4 hours state, plus 4 hours of federal and/or state) now is the time to renew their registration. If not, CTECrenewals.com provides one of the lowest priced courses in the state to help tax preparers get back on track and meet industry regulations.
The California Tax Education Council (CTEC) requires 20 hours of continuing education through a CTEC approved curriculum provider, to be completed by October 31 each year. Unfortunately, failing to complete this requirement means that a tax preparers status changes to "expired," so it's crucial that tax preparers make plans to stay in good standing. That's where CTECrenewals.com can help.
CTECrenewals.com is the best online course available to California Tax Preparers. "This course is the best deal in the state," says recent student O.J. Salas. "And the fact that the test is online means that it comes straight into your home at your convenience. Simple and affordable--it doesn't get better than that!"
With CTECrenewals.com, the tax preparer is in control. Students study at their own pace, take the online test when ready (most students pass the first time), and then receive a certificate of completion instantly. CTECrenewals.com even reports the completion of CE hours electronically to CTEC, avoiding delays.
CTEC begins the yearly registration renewal process August 1, so log on now to CTECrenewals.com for more information on how easy--and affordable--it can be to complete continuing education courses. Last year close to 10,000 California Tax Preparers missed the October 31st deadline and renewed late. Avoid late fees, as of November 1, 2010 the late fee will increase.
About CTECrenewals.com
CTECrenewals.com is a trusted provider of online courses and is committed to providing the highest quality at the lowest cost for tax preparers. The online-based tests and instant completion certificates help tax professionals fit continuing education courses into their busy lives and assist CTEC deadlines. For more information, visit CTECrenewals.com.
###