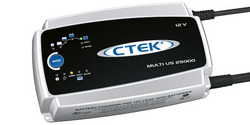 Twinsburg, OH (PRWEB) April 25, 2011
CTEK Smarter Charger's newest charger, the MULTI US 25000, is a fully automatic, primary switch mode battery charger designed to power 12V batteries with a rapid-charge capability ideal for RV's, boats ATVs or any other heavy-duty electric utility. CTEK has leveraged their innovative technology to harness total Smarter Charger performance into a sleek and simple charging device, rendering the MULTI US 25000 an ideal tool for both commercial business owners and home-garage devotees alike.
The 25000 boasts a signature 8-step charging process to ensure optimal battery powering upon every charge. This in-house patented system synchronizes basic and maintenance charging throughout a fully automatic charge cycle to deliver unparalleled performance in its simplest form. Float capabilities ensure batteries are maintained at full capacity for a 10-days post cycle. After this period, the chargers transition to pulse maintenance; the optimal storage method to enable long-term use and maximum service life.
Beyond the sleek and simple user interface, CTEK Smarter Chargers are powered by cutting-edge technology and performance. The MULTI US 25000 utilizes a patented method for reconditioning sulfated batteries through battery analysis and advanced recovery techniques. The built-in weather sensory system adapts charging voltage to accommodate fluctuating battery temperatures with an operating range of 120°F to ensure effective charging no matter the climate. These robust chargers have achieved an IP44 classification and are fully approved for outdoor use.
Two unique features make the MULTI US 25000 the absolute top of its class: the SUPPLY and RECOND modes. The SUPPLY mode serves as a power supply unit which can run 12V equipment up to 25A while keeping important user settings intact. The unique RECOND mode restores power capacity in a stratified battery to sustain ultimate battery life. Furthermore, the CTEK MULTI US 25000 is specifically designed to support sensitive electronic systems offered by today's top vehicles. Unlike traditional chargers, there is no need to disconnect the battery or risk damaging complex electronic systems through abrupt changes in power sources.
The most important feature provided by CTEK products is safety. Innovative spark-free technology allows for safe, easy battery connection and complete protection from harmful gas emissions. CTEK MULTI US 25000 batteries also provide protection from reverse polarity connections and potential short-circuiting. Red light indicators provide a clear signal for correct battery connection, a requirement for initiating a charge cycle.
CTEK continues to provide the most reliable and innovative charging products in its class. The new MULTI US 25000 is a powerhouse that provides unrivaled charging and reconditioning abilities and is proven to be the most versatile, long-lasting power resource for all the utilities of your garage.
CTEK Power Inc. designs and develops a unique series of high-tech battery chargers and special solutions for all types of lead-acid batteries for both private and professional use.
To learn more about CTEK Battery Smarter Chargers including the 25000, visit: http://www.SmarterCharger.com.
About CTEK Smarter Charger
CTEK was formed in 1997, and is a sister subsidiary to Creator Teknisk Utveckling AB (a leading consulting firm within design and development) which was formed in 1982. CTEK's battery knowledge began in 1992, when a leading battery manufacturer hired Creator for research and development of batteries and later for research on a new system of battery chargers. Since its inception, CTEK has gained the reputation of producing the smartest battery chargers in the world. Over the years, CTEK has sold close to three million battery chargers in 60 countries throughout the world. CTEK is also a reliable OEM supplier to many of the world's most prestigious car and motorcycle manufacturers.
Media Contact:
Matt Ingram
Regional Sales Manager
CTEK Power USA
Phone: 330.963.0981
http://www.SmarterCharger.com
###