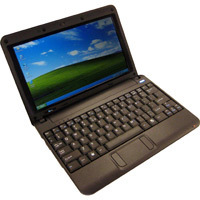 There are a lot of netbooks on the market, however very few netbooks have the flexibility that this one does
Portland, OR (PRWEB) August 26, 2009
CTL introduces a new high-end 2go(tm) netbook with choice of operating systems and 3G wireless ready. The CTL 2go UW1 is available on http://www.ctlcorp.com/shop. The CTL UW1 is a lightweight business class netbook and is a part of the company's popular "2go PC" line of netbook computers.
The most attractive feature of the new 2goPC model is its versatility. "There are a lot of netbooks on the market, however very few netbooks have the flexibility that this one does," said John Tucker, CTL's Product Manager. "You can have us put any operating system on it. You can have 3G wireless on it, as much memory as you need; a camera…or not. We're also shipping Windows 7 with it."
"Everything that our 2go PC does is designed and assembled here at CTL. This is a very high-end netbook."
An LED backlight makes it bighter than most netbooks and allows the battery last longer. The UW1 features a 92% keyboard for easy, comfortable typing.
It is available now at ctlcorp.com/shop and also at Systsem76.com.
The combination of high-end features, customization opportunities and mid-range price makes the UW1 a very attractive product.
About CTL
Founded in 1989, the company manufactures CTL-branded desktop CTL computers, CTL laptops and notebooks, CTL computer monitors and CTL servers as well as its Nexus brand of plasma and LCD televisions and its 2go line of netbooks. Headquartered in Portland, with offices in Seattle and Seoul, Korea, CTL is a supplier to numerous government agencies in Oregon and Washington, and to many of the most recognized corporate brands, including Kroger Company's Fred Meyer chain, and Intel Corporation. CTL's Retronics division is one of the nation's leading recyclers of technology components. For more information about CTL, please visit ctlcorp.com/shop.
Contacts:
John Tucker, Product Manager, CTL Corporation, 800-642-3087 x 204, 971-327-0141 (direct)
Erik Stromquist, Executive Vice President, CTL Corporation, 503-644-8541
###