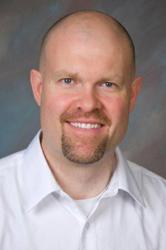 Innovation is driving our growth, and Marcus' experience in driving high-growth technology companies comes at a perfect time for us
Boulder, CO (PRWEB) July 11, 2012
Market Force Information is expanding its executive team with the addition of Marcus Daley as chief technology officer (CTO). In this role, Daley will be responsible for leading the development efforts of the company's Customer Intelligence Platform, its mobility solutions, as well as its R&D and IT programs.
Market Force, which offers solutions from mystery shopping and customer satisfaction to advanced analytics and decision support technology, works with 350 of the world's major brands, providing them with the intelligence they need to delight their customers and drive bottom-line results.
Daley will lead Market Force's product development and IT organization. He brings more than 17 years of software development and IT management experience to this newly created position. An industry visionary, Daley has also authored several engineering articles and been honored with various achievement awards.
Daley comes to Market Force after serving as CTO of Service Repair Solutions Inc. (SRS), where he played a key role in building one of Warburg Pincus's more successful, high-growth companies. His achievements at SRS included helping to grow the company from zero revenue to a repeat Inc. 5000 award winner, as well as building a worldwide team that became a key driver in growing SRS's product portfolio. Prior to SRS, he had an impactful career with Microsoft, leading many international IT engineering projects, including building Microsoft's India Development Center (MSIDC) from ground zero.
Daley has a strong technical background stemming from his time with a variety of software start-ups, and from playing a key role in industry-changing initiatives at Fortune 100 companies. He holds a bachelor's degree from Utah State University and an MBA with honors from Colorado State University.
"Marcus will have a big impact on the business," said Karl Maier, CEO of Market Force Information. "Innovation is driving our growth, and Marcus' experience in driving high-growth technology companies comes at a perfect time for us. We're very pleased to have him on board."
Market Force used Spectrum Search Partners, a retained executive search firm headquartered in Denver, Colo. to fill the position, led by Spectrum's senior leadership team, including Kevin Hahn and Jay Lane. Spectrum specializes in placing C-level and other executives for fast-growing, private equity-backed companies.
About Market Force Information
Market Force is the leading global customer intelligence solutions company for multi-location businesses, including major retailers, restaurants, grocery and convenience stores, financial institutions, entertainment studios and consumer packaged goods companies. With more than 125 years of combined industry experience, Market Force Information has pioneered the industry with a suite of customer intelligence solutions – from 600,000 field associates across North America and Europe who conduct mystery shopping, merchandising and retail auditing, to real customer surveys and proprietary decision-support tools. Its solutions provide a holistic view of the customer's on-site experience and identify the actions required at the store level to increase customer loyalty and improve financial performance. Market Force was named one of Forbes' America's Most Promising Companies in 2011. For more information, visit http://www.marketforce.com.