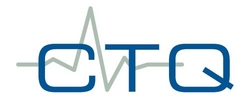 During these four quarters nursing attribute measures were exceptional
Branford, CT (Vocus) June 16, 2010
Following a review of ASC patient satisfaction scores for the first quarter of 2010, CTQ Solutions announced today that the industry's two primary loyalty indicators maintained scores of 95.0 or higher, out of a possible 100, for the fourth consecutive quarter. "Measuring Confidence in Care and the degree to which a patient would Recommend a Facility encapsulates all survey key performance indicators," noted Paul Faraclas, President and Chief Executive Officer of CTQ. "These measures gauge the collective perception of the ASC's care provided."
"During these four quarters nursing attribute measures were exceptional", noted Faraclas. Out of the 25-30 most common measures in ASC surveys, all 3 nursing metrics (Knowledge and Competency, Courtesy, and Concern for Comfort) represented the three highest survey scores attained. "Representing over 200,000 ASC patient responses across all demographics and specialties, ASC nurses have something to be extremely proud of", Faraclas emphasized.
National averages for the 30 metrics most widely-adopted in the ASC industry ranged from 88.7 to 96.7 during this timeframe, with an overall average score of 93.1 as reported by CTQ. Faraclas reasoned that "The high loyalty scores reflect very high satisfaction with more clinically-oriented measures tied to care-givers and processes." One component of CTQ's Critical to Improvement Analysis measures the correlation of each survey attribute to the key loyalty indicators. This helps healthcare entities discern how to best prioritize improvement activities that will optimize patient loyalty.
"It's not without coincidence that CTQ's Critical to Improvement correlation analysis ranks Wait Time and Explanation of Fees and Insurance amongst the least important variables tied to whether an ASC patient would Recommend a Facility. In ASCs, nursing and surgeon measures, as well as recovery attributes (Recovery Staff Courtesy and Adequacy of Recovery Time in Facility) rank at or near the top of patient loyalty correlation. Based on this past year's data, it is clear that the clinical components of care delivery in ASCs are strongly applauded", added Faraclas.
About CTQ
CTQ is the ASC industry's first and leading electronic surveying and benchmarking firm, surveying since 2003. CTQ's EdgeSurvey™ provides a unique approach to maximizing survey response, as well as unparalleled industry reporting, peer-benchmarking and built-in Quality Intelligence. CTQ is a CMS-approved HCAHPS® vendor and provides national leadership for clinical and financial benchmarking for the Physician Hospitals of America. For more information please visit http://www.ctqsolutions.com.
###