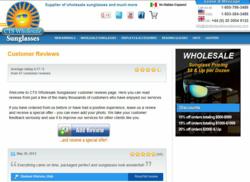 Those who leave us a customer review are also rewarded by a surprise bonus.
(PRWEB) May 31, 2012
Ecommerce vendors are increasingly embracing social media and CTS Wholesale has launched its customer reviews website to collect customer feedback and testimonials. They already have a Facebook page and a blog to keep in touch with their customers and fans.
It is now common knowledge that Internet is no more a one-way medium where the business owners would show their product range and customers would buy. Now users are actively voicing their opinion about the different brands and also checking others' comments before taking a final buying decision. Therefore companies need to be in touch with their most precious asset, customers. Customer reviews websites help the companies to collect these testimonials in an organized fashion and display these to help their prospects move towards the buying decision with confidence.
"We love to carry out a constant dialog with our customers and our social media activities are a reflection of this policy. We started with a blog to share marketing tips and new product information with our small business customers. Then we launched a Facebook page to interact with them even more closely. And now we have opened another channel where they can share their good and bad experiences with us," shared Kirk Bachelder, owner of CTS Wholesale.
CTS operates an online ecommerce portal where people can buy wholesale sunglasses, wholesale hats and oil based lighters with a large selection of designs. This site is very user friendly and has provision for toll-free numbers and live online chat to help the customers with any questions they may have about the products, shipping or returns.
Actively monitoring the online media helps business owners research the in-demand products and understand the consumer psyche which enables them to launch just what the market needs. This results in ready acceptance of their products by the early and later stage buyers. CTS regularly announces coupon codes and special discounts through the social channels for a little extra profit to the people who stay connected with the company.
"The reviews website helps us listen to our customers and learning about their good experience in dealing with us motivates us to provide an even better service next time. We also get to know if someone has faced any problem and we can set things right and resolve the customer's issues quickly thereby improving the overall satisfaction level," said Kirk. "Those who leave us a review are also rewarded by a surprise bonus," added Kirk.
CTS offers wholesale replica sunglasses, sunglass accessories and sales tools like display stands, which can be bought online and sold at malls, exhibitions and other retail markets. With a fantastic profit potential, selling sunglasses has become an attractive proposition for several people who want to run their own small retail business. CTS is a leading online wholesaler of such products. Those testing the waters can buy as little as 1 dozen, while there is a provision for large commercial level wholesale packs for those with an established outlet.
The store has a convenient ordering process, facility to pay with a credit card and same day shipping resulting in pleasant online shopping experience. Toll-free numbers in both USA and UK allow the customers to get their questions answered in real time.
About CTS Wholesale LLC:
CTS Wholesale operates an online store selling sunglasses, caps, hats and lighters to dealers buying in wholesale. Stressing on high style, attractive prices and reliable quality, they are a popular consumer website. Visit http://www.CTSWholesaleSunglasses.com. The customers can leave their review at http://reviews.CTSWholesaleSunglasses.com.
Contact:
Kirk Bachelder
CTS Wholesale LLC
503.364.3486
###