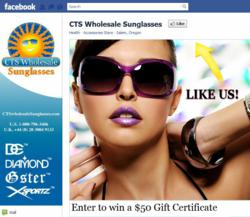 CTS Wholesale, the market leader in wholesale sunglasses, invites you to join its Facebook page.
(PRWEB) January 31, 2012
CTS Wholesale Sunglasses, the importer and distributor of wholesale sunglasses, has launched its Facebook page at http://www.facebook.com/CTSWholesaleSunglass to be closer to its customers and participate in social media conversations with other industry people.
"We have always treated customer feedback and interaction as a vital tool for new product ideas. With online live chat, toll-free numbers, quick response customer service email addresses, blog and now Facebook, we love to be in touch with our customers" reported Kirk Bachelder, owner of CTS Wholesale Sunglasses.
With millions of people logging on Facebook daily, it become imperative for businesses to connect with their customers, listen to the grapevine, research new product demands and understand how people are using their products. While it is fine to make occasional posts about their products specially when launching a new range, business owners should build a relationship with the fans which will go a long way in developing brand loyalty.
Interacting with the fans, posting welcome messages when they join the Facebook page and offering discount coupons and other freebies at times, gets the fans talking about the brand and company. This word of mouth promotion can be very valuable to any brand, specially in today's time when people take the opinion of their peers before making even small purchases.
CTS Wholesale offers its fans a chance to win a gift certificate of $50 value on joining its mailing list through the Facebook page. There is a mini online store on the Facebook page that carries some of the popular items available on the main online store at http://www.CTSWholesaleSunglasses.com. Interactive live chat with the company support team is also available on the Facebook page of CTS.
"CTS Wholesale as the market leader in wholesale sunglasses, has a commitment towards providing the best in class range of products and support for our clients and the Facebook page is another step in that direction. We invite you to join the page and talk to us about the things you want us to carry in the store", added Kirk.
CTS carries a wide selection of wholesale sunglasses with popular designs at very attractive prices and a super-low minimum order quantity. These can be bought online and then resold at retail stores for a handsome profit. In addition to the eyewear, they also carry wholesale lighters and popular designs of caps and hats. The fashion retailers can pick up their entire inventory from a single source for quick same-day dispatch.
They recently renovated their online shopping site to allow the buyers to easily choose and order their required products from the comfort of their homes and at times of their convenience. Convenient ordering process, facility to pay with a credit card and same day shipping result in pleasant online shopping experience. Toll-free numbers in both USA and UK allow the customers to get their questions answered in real time.
About CTS Wholesale LLC:
CTS Wholesale operates an online store selling sunglasses, caps, hats and lighters to dealers buying in wholesale. Stressing on high style, attractive prices and reliable quality, they are a popular consumer website. Visit http://www.CTSWholesaleSunglasses.com
Contact:
Kirk Bachelder
CTS Wholesale LLC
503.364.3486
###