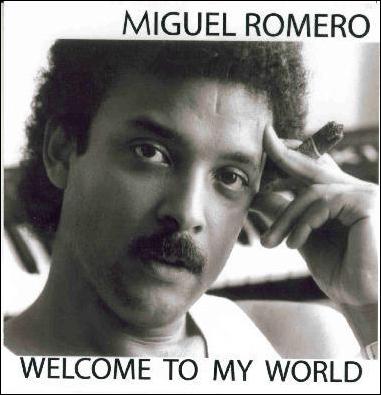 Later after the religious ceremony was over, the sacred drums would be put away and the bata players/percussionists would take out their secular instruments and it was on
Atlanta, GA (PRWEB) October 30, 2006
A river of rhythms, deep funk and mesmerizing grooves all come together in Miguel Romero's latest CD "Welcome to My World." In his most eclectic recording to date, the Cuban composer, pianist and producer delivers a lush landscape of Latin vibes, spoken word, soul sexy vocals, Cuban-style hip-hop and Yoruba chants. http://www.miguelromero.com
The title track, "Welcome to My World" is an infectious Latin vibe with a French accordion flavor. "Grab It" is a funky 21st century Cha Cha with vocals. "Mojito", an island style marimba, features a fiery guitar. "Coolness" marries happy, grooving vibes with a playful bass line. "Find Me" is a bluesy sultry groove with an addictive organ hook and vocals. "Chango", a traditional Yoruba Chant is contemporized with bass and Rhodes keyboards. "NYZ" is a musical conversation in New York, based on a blues progression and laced with a Cuban rhythmic drive. "Organza" is a 100 miles per hour vamp. "En El Silencio" has an Atlanta hip-hop deep bass vibe with spoken word and batas. "Caravan" fuses Middle Eastern influences with Cuban, Spanish and African elements. In "Rumba", Romero puts a new take on this traditional Cuban rhythm, by adding Indian tablas, bass and batas. "Yoruba" is a funk medley of traditional chants that evoke the different Yoruba deities. http://www.myspace.com/miguelromero
"Welcome to My World," released on Alafia, is a departure from Miguel's first two critically acclaimed CDs -- the Caribbean-influenced "Island Breeze" and the harder-edged "Cuban Jazz Funk." More than any other of Romero's efforts, this CD explores all the artist's cultural and musical influences, from Latin rhythms to Afro funk, Cuban hip hop to Middle Eastern.
"I am grateful for my unique upbringing; the particular melding of cultures I've experienced has influenced my sound and style and enriched my music tremendously."
Heir to a Cuban musical dynasty, Romero always knew music would be his life. When he was four he played the dining room tabletop, his mother's pots and pans, "anything I could hit with a spoon, knife or fork." Music was everywhere. If his mom was hosting a Santeria ceremony, then it was Yoruba music in the living room and a jam session going on in his room with his father's musician friends. "Later after the religious ceremony was over, the sacred drums would be put away and the bata players/percussionists would take out their secular instruments and it was on," he remembers. A young and impressionable Romero inhaled it all.
On "Welcome to my World" it shows!
If you haven't heard Romero before sit back and listen. An extraordinary, original and infectious adventure awaits you. Romero is a composer in love with life and all its sounds and rhythms, who reveals worlds in every note. Hear why Creative Loafing named Miguel Romero Best International Artist of 2006.
(678)297-9474. To hear music http://www.miguelromero.com and http://www.myspace.com/miguelromero
###