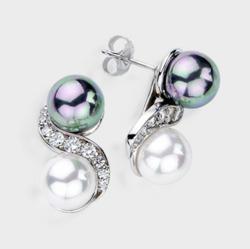 With quality cubic zirconia instead of diamonds, brides can buy beautiful bridesmaid jewelry that looks expensive but is reasonably-priced
New York, NY (PRWEB) April 20, 2011
Top cubic zirconia jeweler Birkat Elyon is offering tips for budget-conscious brides on purchasing bridesmaid jewelry. With wedding season just around the corner, many brides are facing the difficult decision of what gifts to give their bridesmaids; the trick is to stay on budget while maintaining appearances. Birkat Elyon has suggestions for bridesmaid jewelry gifts that fit the bill.
"Bridesmaids are typically dear friends and relatives of the bride, so the last thing brides want to do is give bridesmaid gifts that their bridesmaids don't like." says Rebecca Daniel, Senior Designer at Birkat Elyon. "At Birkat Elyon, we can help brides choose bridesmaid jewelry that their bridesmaids will love and treasure for years to come."
Since weddings are all about creating memories, Birkat Elyon suggests infusing bridesmaid jewelry gifts with meaning. For example, heart-shaped cubic zirconia jewelry serves as a reminder of the reason the piece was purchased – to celebrate the uniting of two people in love. "Heart-shaped pendants or earrings are the perfect complement to a wedding ceremony," says Ms. Daniel. "And with quality cubic zirconia instead of diamonds, brides can buy beautiful bridesmaid jewelry that looks expensive but is reasonably-priced."
Since brides often purchase bridesmaid jewelry for their bridesmaids to wear at the wedding, Birkat Elyon suggests purchasing cubic zirconia bridesmaid jewelry that fits into the theme of the wedding. For example, beautiful pear-shaped teardrop cubic zirconia earrings offer sparkle to match elaborate bridesmaid dresses, while small cubic zirconia stud earrings work well for smaller, more traditional ceremonies with scaled-down attire.
Brides who want to enhance the elegance of the bridal party should consider mixing cubic zirconia with pearls, according to Birkat Elyon. "Simulated pearls are a wildly popular choice for bridal and bridal party jewelry," says Ms. Daniel. "They offer a sense of tradition, classic style, and versatility that other gemstones simply can't match at that price point."
For example, a single simulated pearl accented with one brilliant round cubic zirconia in earrings or with several smaller stones in a pendant gives the perfect pretty but light touch to a spring garden wedding. For a formal evening wedding, chic earrings that feature brilliant round cubic zirconia set in an S-shape design with one gray simulated pearl on top and one white simulated pearl on the bottom will match the crisp elegance of the occasion.
Though earrings are a popular bridesmaid jewelry gift, Birkat Elyon suggests that brides think outside the box with a cubic zirconia bracelet or cubic zirconia pendant. "Not all women wear earrings," says Ms. Daniel. "We counsel our brides to pay attention to their bridesmaids' styles as the wedding approaches, so they're not confused during the decision-making process."
About Birkat Elyon Jewelers:
Birkat Elyon is a luxury cubic zirconia jewelry manufacturer, specializing in custom 14K gold, 18K gold and platinum jewelry designs. Birkat Elyon has more than 20 years of cubic zirconia jewelry expertise and is located on Park Avenue in New York City. Birkat Elyon offers free fine jewelry consultations to help customers get the perfect CZ jewelry that they'll treasure for a lifetime. Its collection is available online at http://www.BirkatElyon.com.
###