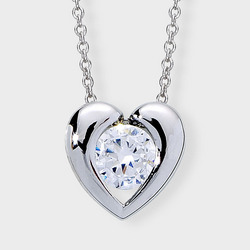 Even in troubled economic times, everyone wants a beautiful piece of jewelry
New York, NY (Vocus) October 20, 2010
Premier cubic zirconia jeweler Birkat Elyon gives holiday shoppers the chance to save money on gifts of jewelry without compromising quality. The company provides the world's finest cubic zirconia set in 14K, 18K, and platinum settings. Whether it's a necklace, bracelet, ring, or pair of earrings, holiday shoppers can still afford to buy the best in jewelry for their loved ones.
The holidays are just around the corner, and many shoppers are starting early in order to get the best selection and minimize the stress on their budgets. Famed cubic zirconia jeweler Birkat Elyon is aware of consumers' desire for quality and value this holiday season. "Even in troubled economic times, everyone wants a beautiful piece of jewelry," says Rebecca Daniel, senior designer at Birkat Elyon. "They just don't want to break the bank to get that jewelry. CZ is increasing in popularity because it provides the best of both worlds."
Turning to cubic zirconia jewelry means putting aside the need to spend thousands of dollars on heavily marked-up diamonds with no visible difference in quality or aesthetics. Today's consumers don't want to spend more money than they need to, and high-quality cubic zirconia in precision jewelry settings means there is no need. "Certainly, the degree of artistry and design is just as significant, if not greater, in cubic zirconia jewelry," says Ms. Daniel. "We focus on elegant designs with Old-World craftsmanship. And frankly, even experienced jewelers have trouble telling the difference between quality cubic zirconia and diamonds."
Cubic zirconia necklaces, rings, bracelets, and earrings come in gold and platinum settings that make the pieces virtually indistinguishable from diamond jewelry. Jewelry designs made with cubic zirconia even offers holiday shoppers the chance to buy much nicer jewelry than they had hoped. "Many of our customers are surprised at what they can get for the money when buying cubic zirconia," says Ms. Daniel. "Customized pieces, larger stones, fancier cuts, colored stones, CZ with pearls….the possibilities are truly endless, and our customers appreciate being able to get more for their money."
The holidays are also a time when many marriage proposals occur, and a cubic zirconia solitaire is a gorgeous engagement ring she'll be proud to show off to family and friends. In addition to its budgetary benefits, cubic zirconia is cruelty-free, an important consideration for today's brides. "Many women are opting for CZ rings over diamonds today, not just to save money but to avoid contributing to 'blood diamond' crimes," says Ms. Daniel. "Women today are just as conscious of the impact they have on the world as they are of making a great impression."
When quality cubic zirconia is placed in the right setting, the only difference the consumer sees is in the price. For more information on cubic zirconia jewelry for the holidays, call 877-777-8352.
###