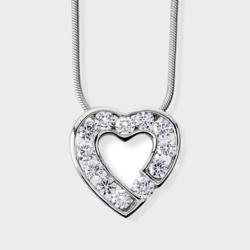 Shoppers get the closest thing to real diamond jewelry this Valentines Day with designer CZ jewelry from Birkat Elyon.
New York, NY (Vocus/PRWEB) February 09, 2011
According to online jeweler Birkat Elyon, Valentine's Day 2011 comes with a certain expectation regarding gifts – they can't just be beautiful, they must also be meaningful. This can cause put significant pressure on men, who sometimes have trouble expressing themselves though gifts in general and jewelry in particular. While jewelry is an excellent gift idea, shopping for and choosing the right piece can still be difficult. To assist men in making the best decision for their relationships, jewelry designer Birkat Elyon offers the following tips for purchasing cubic zirconia jewelry for this year's Valentine's Day holiday.
First, make sure your significant other appreciates the value of fine cubic zirconia jewelry. While many women like high-quality cubic zirconia because it's conflict-free and can't be distinguished from diamonds, it's best to be clear. "Don't tell your girlfriend that the jewelry you got her is diamonds when it's really CZ," says Rebecca Daniel, Senior Designer at Birkat Elyon. "Cubic zirconia has its own place in many women's lives as a gorgeous alternative to diamonds – but even though top-quality CZ is often indistinguishable from diamonds, deception is never a good idea."
Next, assuming you're not ready to pop the question with an engagement ring, ask your significant other what she wants. The chances that she's already thought about this issue are excellent. Determine whether she prefers a ring, pendant, necklace, bracelet, or earrings, as well as what metal she prefers for the setting – white gold, yellow gold, or platinum. If she shows you a beautiful jewelry piece that features diamonds, remember that nearly any design that features diamonds can be created with cubic zirconia.
If you are ready to propose, Valentine's Day is the perfect day to do it, of course. "Cubic zirconia engagement rings are actually our most popular item, at Valentine's Day and all year round" says Ms. Daniel. "So we have a huge variety of ring designs, carat weights, and settings from which to choose." Men who are planning to purchase an engagement ring for their holiday proposal often enlist the help of her sisters or friends to determine her ring size and to determine the stone shape she wants.
If a wedding isn't in your immediate plans, you can still dazzle her without breaking the bank. A gorgeous, sparkling pendant is a popular Valentine's Day choice. A traditional cubic zirconia heart pendant is just one option; your girlfriend's tastes come into play here. A woman who favors a classic, romantic style might prefer the heart shape; someone with more modern sensibilities may favor a more trendy design, such as colored CZ or a square shape instead of round.
"Consider also your girlfriend's existing jewelry and fashion preferences," says Ms. Daniel. "If she mostly wears small, elegant pieces versus larger, eye-catching jewelry, make sure you don't veer too far from that look when you make your selection." If you're not sure what her style is, look in her jewelry box or consult with her family and close friends.
A cubic zirconia necklace is another excellent Valentine's Day gift choice; you'll just need to determine the proper necklace length and whether or not you'd like to include color in your design. Besides yellow or blue CZ, one option is pearls, which offer elegance and poise to any ensemble and can be dressed up or down.
Whatever piece of cubic zirconia jewelry you select, be sure to present it to your girlfriend in a romantic setting and in a manner that lets her know she's special. "Ambiance and presentation make a big difference, especially at Valentine's Day," says Ms. Daniel. "Your girlfriend will remember this moment for a long time."
About Birkat Elyon Jewelers:
Birkat Elyon is a luxury cubic zirconia jewelry manufacturer, specializing in 14K gold, 18K gold and platinum designs. Birkat Elyon has more than 20 years of cubic zirconia jewelry expertise and is located on Park Avenue in New York City. Birkat Elyon offers free fine jewelry consultations to help customers get the perfect CZ jewelry that they'll treasure for a lifetime. Its collection is available online at http://www.BirkatElyon.com.
###