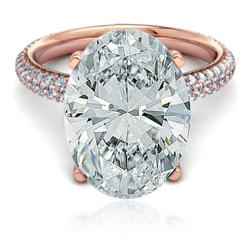 "Purchasing a high quality cubic zirconia engagement ring or cz wedding set is a purchase that just makes sense."
Boca Raton, FL (PRWEB) January 24, 2013
Ziamond Cubic Zirconia Jewelers had another record setting year in 2012. In addition to continued consumer demand for Ziamond's high quality cubic zirconia jewelry, additional growth in sales is projected for 2013 at an even higher rate due to the projected rise in genuine mined diamond prices in the coming year.
In light of the recent global financial crisis, DeBeers announced that it has decreased its production of rough mined diamonds by 50% - the lowest since 2009. Since the supply will be limited, DeBeers will have the ability to increase rough diamond prices and this increase will be passed all the way down to the consumer level. The limited supply from diamond mines across the world is set to interrupt the supply-demand cycle and lead to an increase in rough diamond prices in 2013. In addition to the prices of rough diamonds, increasing global demand in emerging middle class consumer markets like China and India will have added pressures to diamond supply and prices.
Now more than ever consumers are realizing the benefits of Ziamond's high quality cz jewelry set in solid 14k gold, 18k gold or platinum mountings that can offer the same look, feel and quality as genuine diamond fine jewelry.
Ziamond has already experienced continual increase in sales due to the current economic conditions in the United States. More and more people are turning to Ziamond to provide them with an affordable alternative to fine diamond jewelry. With the expected increase in the price of diamonds, Ziamond offers a perfect solution for customers to avoid the high cost of diamond rings with their cz engagement rings or cz wedding sets without compromising on quality, style or carat size. As couples are getting engaged and married they still want the look and feel of a real fine diamond ring – without the high price tag.
Ziamond offers an indistinguishable alternative to mined diamonds due to the fact Ziamond's cubic zirconia is manufactured utilizing the original Russian formula cz that are that are hand cut and hand polished to exact diamond specifications by diamond cutters. This gives the consumer the finest diamond substitute with all the faceted details, brilliance and luster expected with high grades of diamonds.
"We are excited for 2013 and for our current clientele and new customers who will be able to enjoy our quality products for many years to come," states Ziamond COO Scott Cummings. "Purchasing a high quality cubic zirconia engagement rings or cz wedding sets is a purchase that just makes sense."
About Ziamond:
Ziamond is recognized as a leading cubic zirconia jewelry manufacturer, specializing in the highest quality cubic zirconia jewelry exclusively set in 14k, 18k Solid Gold and luxurious Platinum. With Corporate headquarters located in Boca Raton, Florida, Ziamond ships fine cubic zirconia jewelry to customers worldwide. Ziamond is an A+ rated BBB company and enjoys a sterling reputation as a leader in its field.