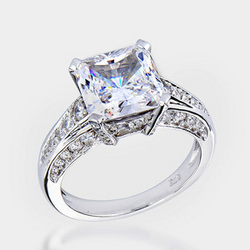 New York, NY (Vocus) July 20, 2010
A Spring survey of cubic zirconia jewelry customers revealed their top reasons for buying high quality cubic zirconia diamonds over traditional mined or natural diamonds. With both men and women participating, this survey shows shifting buying habits of luxury jewelry shoppers.
Cubic zirconia jewelry (or CZ jewelry) is the latest, hottest trend in fashionable jewelry among both celebrity Hollywood stars and general consumers. Booming sales led New York's Birkat Elyon to survey its Spring jewelry buyers to determine their motivations and interests. The survey revealed several reasons why cubic zirconia is so popular.
Cubic zirconia offers unmatched value. Cost savings came up number 1 in the jewelry buyer survey, especially for cubic zirconia ring buyers. Shoppers enjoy a significant savings when they choose cubic zirconia diamond jewelry over traditional mined diamonds. A $700 CZ ring from Birkat Elyon might cost $40,000 and up if it were made with natural diamonds. "Savvy consumers have already shopped around on the Internet and realize that the money they save can be used for other necessities. Our customers want to look like a million dollars without spending a million dollars. We always meet this desire and exceed their expectations," said Rebecca Daniel, Sr. Designer and Sales Director of Birkat Elyon.
The beauty of cubic zirconia is stunning. Even trained jewelers have difficulty distinguishing the simulated diamonds on the Birkat Elyon cubic zirconia jewelry site from traditional diamonds. Survey participants indicated that they loved the brilliance of the simulated diamond jewelry from Birkatelyon.com. Birkat Elyon cubic zirconia diamonds are truly flawless, a fact validated by customers once they held the product in their hands.
Safety is a consideration of luxury jewelry buyers. Birkat Elyon's buyers like to leave their heirloom diamond jewelry at home -- safe and sound when traveling or going out on the town. Whether in a nightclub, party, cruiseship or vacation getaway, wearing a cubic zirconia diamond ring instead of a diamond ring made them feel more secure against theft or simple loss. Shoppers also indicated they liked getting rid of expensive insurance coverage needed when traveling with real diamonds, as they could spend the savings on enjoying their trip. Even men in this survey showed safety concerns with the use of real diamonds, especially in everyday use. They chose cubic zirconia to make their wives, girlfriends and daughters feel safer.
Buyers find CZ jewelry fun and multi-functional. Jewelry shoppers surveyed said that cubic zirconia diamonds are the perfect gemstones to use as a fashion accessory for any occasion. CZ buyers find Birkat Elyon jewelry perfect for special events like parties, weddings, or even everyday wear. These days, many women do the buying for themselves; they often do not wait for a man to buy them fine jewelry. The Birkat Elyon fan is not afraid to indulge herself with a cubic zirconia designer ring and matching earrings.
Custom cubic zirconia designs add personalization. While the ready-made designer inspiration jewelry pieces are still very popular, many shoppers surveyed cited the fact that the custom design service from Birkat Elyon was a motivator when buying. "When consumers buy natural diamond jewelry, the sheer cost of the diamond will mean that their design choices will often be limited. Our CZ shoppers know they can save significantly when buying cubic zirconia diamonds, and they frequently use the savings to get their cubic zirconia jewelry piece custom designed, or even to buy additional jewelry pieces. We are happy to accommodate," said Rebecca Daniel.
About Birkat Elyon Jewelers:
Birkat Elyon is a luxury cubic zirconia jewelry manufacturer, specializing in 14K gold, 18K gold and platinum designs. Birkat Elyon has more than 20 years of cubic zirconia jewelry expertise and is located on Park Avenue in New York City. Birkat Elyon offers free fine jewelry consultations to help customers get the perfect jewelry that they'll treasure for a lifetime. Its collection is available online at http://www.BirkatElyon.com.
###