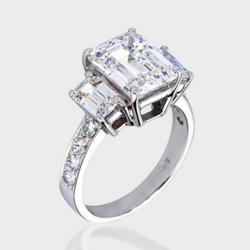 Many women have carried an image in their minds for years of what their perfect engagement ring should look like, and we're happy to help them translate that into reality
New York, New York (Vocus/PRWEB) March 08, 2011
New York cubic zirconia jeweler, Birkat Elyon announces the opportunity for clients to order custom-made cubic zirconia designs. Though the famed jewelry designer offers a wide selection of both classic and modern pieces in the finest quality cubic zirconia enhanced with solid white gold, yellow gold, and platinum, custom cubic zirconia engagement rings, wedding rings, necklaces, earrings and other jewelry offers Birkat Elyon's customers their ideal jewelry designs at an affordable price – elegance for less.
Birkat Elyon offers highly-affordable cubic zirconia jewelry in a range of styles, from basic pieces that are popular for day-wear to more glamorous, striking pieces perfect for any elegant occasion. But when it comes to engagement and wedding rings, some customers have very specific ideas about what they want, and a custom-designed ring is the best way to meet their needs. "Many women have carried an image in their minds for years of what their perfect engagement ring should look like, and we're happy to help them translate that into reality," says Rebecca Daniel, senior designer at Birkat Elyon. "They get the beauty of fine jewelry at an affordable price, along with Birkat Elyon's excellent service."
Custom-designed cubic zirconia engagement rings allow couples to think in terms of their heart's desires, not cost, because they can get the look of outrageously expensive diamonds at a fraction of the price. Whether they dream of a cutting-edge design or want to replicate a family heirloom, they get beautiful CZ jewelry that even experienced gemologists often mistake for diamonds, at a surprisingly low price. "Our average ring price is around $1000, but a diamond equivalent might cost $40,000 or more," says Ms. Daniel. "That's why so many newlyweds turn to our top-quality CZ in the first place."
In this economy, even the best-dressed women and men want to save money, but that's not the only reason discerning jewelry-buyers turn to Birkat Elyon. Many customers want to protect more expensive and sentimental jewelry pieces by leaving them safely at home when they travel, whether on business or for pleasure – but that doesn't mean they're willing to go without jewelry. "Our customers want to be able to wear the same stunning pieces when they travel as at home, so they turn to us to get those pieces replicated at a fraction of the cost of the original piece," says Ms. Daniel. "Then they can wear elegant jewelry without the concerns associated with traveling with precious gems."
When creating custom cubic zirconia jewelry, the skilled artisans at Birkat Elyon put their extensive experience, attention to detail, and emphasis on quality to work on every piece, just as they do in their own designs. The same heavy mountings, top-quality stones, and meticulous craftsmanship go into every piece. "Our knowledgeable staff has over 25 years of experience and will gladly help clients create a custom-made design for themselves or that special someone if that is what they desire," says Ms. Daniel. "We know that when our customers look good, we look good."
About Birkat Elyon Jewelers:
Birkat Elyon is a luxury cubic zirconia jewelry manufacturer, specializing in custom 14K gold, 18K gold and platinum jewelry designs. Birkat Elyon has more than 20 years of cubic zirconia jewelry expertise and is located on Park Avenue in New York City. Birkat Elyon offers free fine jewelry consultations to help customers get the perfect CZ jewelry that they'll treasure for a lifetime. Its collection is available online at http://www.BirkatElyon.com.
###