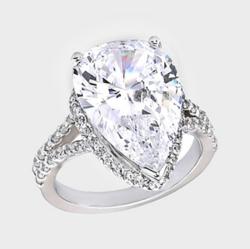 I am so glad we are able to help our customers find and purchase jewelry that exceeds their expectations, even in a down economy.
(PRWEB) September 27, 2011
Birkat Elyon, world renowned jewelry manufacturer, is experiencing a surge of interest in their collection of fine cubic zirconia jewelry. Offering both custom and designer pieces, Birkat Elyon is taking steps to cater to a growing community of money conscious consumers.
Established in 1986 Birkat Elyon has since become one of the most highly regarded cubic zirconia dealer in the world. Using the highest quality Russian formula to create each stone, Birkat Elyon cubic zirconia are second to none. Each stone is then hand polished and cut with the same precision used to refine diamonds, giving Birkat Elyon cubic zirconia the splendor and elegance of fine gems. Unlike mass produced cubic zirconia, Birkate Elyon cz stones boast a purity level of 99.9%. The quality and brilliance of these cubic zirconia make it difficult for many gemologists to recognize them as simulated diamonds.
As the U.S. debt ceiling and international political turmoil continue to negatively impact world markets, consumers everywhere are unable to afford many of the luxuries they once enjoyed. Many jewelry lovers are no longer able to afford gems and fine diamonds. For this reason many consumers are investing in cubic zirconia jewelry. From cz rings and earrings to pendants and necklaces, cubic zirconia jewelers worldwide are reporting record growth in sales.
"So many of us have been affected by struggling financial markets," said Rebecca Daniel, Senior Designer and Sales Director at Birkat Elyon in New York. "I am so glad we are able to help our customers find and purchase jewelry that exceeds their expectations, even in a down economy."
Providing designer styles and custom pieces, the jewelers at Birkat Elyon work with each customer to help them select and/or design cz jewelry that expresses their individuals styles and tastes. Offering colored cubic zirconia, princess cuts, emerald cuts and more, Birkat Elyon truly has something for everyone. Created to last a lifetime, each Birkat Elyon pieces are available in 14K gold, 18K gold and platinum settings. The recent addition of more cubic zirconia engagement rings and wedding bands, to the expansive Birkat Elyon selection, has proven popular among their customer base. With such a large inventory, it is no surprise that Birkat Elyon is reaching more customers than ever before.
With the holidays approaching, the jewelers a Birkat Elyon expect to see sales continue to increase. Stay tuned for more exciting announcements throughout 2011, and into next year, as the cubic zirconia industry continues thrive. To learn more about Birkat Elyon wedding bands and cz jewelry, visit them online at http://www.birkatelyon.com or call 877.777.8352 to speak to a one of their talented jewelers.
About Birkat Elyon:
Birkat Elyon is an online luxury cz jewelry manufacturer, specializing in 14K gold, 18K gold and platinum designs. Birkat Elyon has more than 20 years of CZ jewelry expertise. Located on Park Avenue in New York City, Birkat Elyon offers free wedding jewelry consultations for the selection of readymade designs, as well as for custom-made jewelry.
###