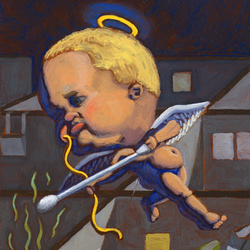 I found myself laughing and nodding in agreement as I could relate to each one of those icons
Chicago, IL (PRWEB) December 4, 2008
Recently, a little band of plucky, attitudinal cherubs have begun bringing smiles to the otherwise droopy faces of many of the millions of Americans who work in cubicles. Montana Artist Fish Waxler has rendered portraits in oil of these "Cubicle Cherubs" in action, and has made them available as limited edition prints on canvas. Waxler launched the website where his art is featured -- http://www.cubiclecherub.com -- last month.
According to Waxler, "each one of the Cherubs has a duty to protect or enhance cubicle life in a specific way." There's "Cutip -- Sentinel of Workplace Hygiene", "Finbar -- Angel of Office Mischief", and "Dugan -- Protector of Prairie Dogging." Not all of them have names, however, such as the angel that declares "We Shall Overcube" or the one that promotes a never-ending casual day (rumored to be from Seattle). Rounding out the group is "Li'l Messblesser" who helps keep meddlers away from interfering with one's sense of "organization".
Waxler says that besides the comfort they provide, Cubicle Cherubs add a unique dose of wry humor and fresh color to cubicle life. Once people see them, they immediately know which one's right for them -- or someone they know." The style of the paintings themselves is an odd fusion of modern caricature and classical chiaroscuro (strong use of light and shadow). Many of these little guys stare back at you with a playful smirk and, bathed in an evocative, single light source (reminiscent of a Caravaggio or a Rembrandt), their overall effect is something strangely satisfying. While immediately amusing, there's also an aura of permanence about them because of the way in which they are carefully rendered. Think single-paned comic strip doubling as a luminous, richly hued portrait -- something to frame and keep next to photos of loved ones at the workstation.
"I found myself laughing and nodding in agreement as I could relate to each one of those icons," says Dave Shuck of Denver, Colorado. He saw them last month where they debuted in a show in downtown Denver. With the Holidays now in full swing, the Cherubs will make snappy gifts for friends, family, and co-workers. And their relatively small size and affordability lends itself to today's efficiency-sized workstation.
They will be on exhibit and offered this weekend at Chicago's favorite holiday shopping event -- the One of a Kind Show and Sale held at Merchandise Mart (Dec. 4-7), in Booth #8-2109 (sharing space with another artist -- Scott Hale).
Learn more about Cubicle Cherubs online at the artist's website -- http://www.cubiclecherub.com -- where they are also available for purchase.
Contact:
Fish Waxler, Artist/Owner
CubicleCherub.com
406-579-1437
http://www.cubiclecherub.com
# # #