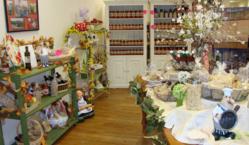 Mt. Kisco, NY (PRWEB) January 25, 2012
Cucina Antica has opened its first retail location in Westchester County, New York. Off of bustling Route 117, Cucina Antica is located at 333 N. Bedford Rd, Suite 118, Mt. Kisco, NY, in the same shopping center as Grand Prix. The retail store offers customers all-natural and organic products from both brands: Cucina Antica and Monte Bene. Additionally, customers can purchase gift baskets of their favorite products throughout the year at this location.
The new retail space is attached to the main office allowing customers to interact with the national sales team and have conversations with the Chef/Owner, Neil Fusco.
Cucina Antica Foods Corp. is a family owned and operated company located in Westchester County, New York. For over 14 years, Cucina Antica Foods Corp. has provided families with all-natural, fresh sauces as well as donations and support for families in need. Recently an organic line of dressings and ketchup has been launched. For more information, please visit http://www.cucina-antica.com.
# # #