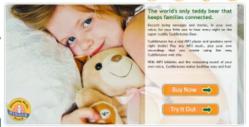 We were very privileged to receive a CuddleTunes bear. It has brightened my son's mood daily and into the evening hours as he hears his Dad's voice while going to sleep at night.
(PRWEB) January 13, 2013
CuddleTunes, founded in 2007, helps families stay close through the power of story, song, and the human voice. They feature recordable message teddy bears so parents, grandparents and family members can be comforted by the voice of a loved one. CuddleTunes has launched an online sweepstakes with Sweepstakes Ninja to give families the opportunity to win a recordable message teddy bear.
These personalized teddy bears are perfect for any family who has a parent or loved one working at a long distance. Record a special message and your child will be comforted even though separated. These are more than just cute stuffed animals, and will be a treasured keepsake in the years to come.
Sweepstakes Ninja gives people the chance to learn about unique companies such as CuddleTunes, while at the same time giving them the chance to win great prizes. People may enter the sweepstakes through the sweepstakes draws (http://www.sweepstakesninja.com/sweepstakesdraw/draw/cuddletunes-record-loving-messages-in-teddy-bears/). They are daily entry draws, that not only give people chances at winning amazing prizes, but also introduces unique companies to them. Through the sweepstakes draws, contestants have a chance of winning a recordable message teddy bear from CuddleTunes.
The sweepstakes may be entered through the Sweepstakes Ninja website. To increase their chances of winning, entrants may share sweepstakes links with friends, family, and through social media. This is a win-win situation for both CuddleTunes and the entrant. Entrants increase their chances of winning award winning products, and more people learn their line of recordable message teddy bears.
About SweepstakesNinja.com
SweepstakesNinja.com designs fun and interactive sweepstakes. The company matches consumers with companies, in a fun and interactive manner. Entrants have the chance of winning amazing prizes, and have fun participating in the sweepstakes. Companies benefit from exposure to their brands, word of mouth advertising, customer loyalty, and long term increases in profit. For more details, visit http://www.sweepstakesninja.com/.