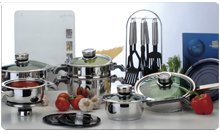 see how much fun cooking can be, when equipped with the correct cookware
Ottawa, Ontario (PRWEB) February 26, 2012
Cuisine Sante International, a noted high-end cookware company, will be hosting a free, live cooking show on February 1, 2012. Attendees are welcome to come and try some of the best cuisine, prepared by top chefs who are utilizing the best in modern cookware. The free live cooking show will feature professional chefs who will be preparing healthy and delicious meals for those in attendance.
Cuisine Sante International has been showing consumers the benefits of healthy living since 2003. Their cookware can be found in numerous showrooms and kitchens across the United States and Canada. Now, with over 23 products and in 5 countries, Cuisine Sante International is positioned to become one of the top cookware providers in the industry today.
Cuisine Sante International live cooking shows are an event that consumers make room in their schedule to attend. The events, featuring some of the best local chefs, offer attendees the opportunity to see how much fun cooking can be, when equipped with the correct cookware and easy recipes for a healthier lifestyle. Space is limited for this show. Attendees are encouraged to register for both them and a guest as early as possible.
Cuisine Sante International offers live cooking shows in markets across the U. S. and Canada. For more details on their live shows or products, call (613) 288-9020 or visit http://www.cuisine-sante-international.com.
###