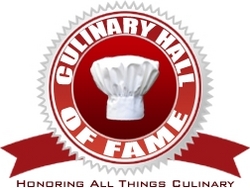 Honoring All Things Culinary
Centennial, CO (PRWEB) February 20, 2011
The Culinary Hall of Fame, LLC announced the opening of their site at http://www.culinaryhalloffame.com. The Culinary Hall of Fame is an international culinary showcase for websites, products, services and skills.
The visitors at http://www.culinaryhalloffame.com have an opinion and they express it daily by voting and writing comments for their favorite TV shows, blogs, videos, cook books, schools, instructors, chefs, scholarships, caterers, culinary visionaries, restaurants, recipes, wine, beer and gourmet websites among others.
Notable is the culinary visionary section where individuals and companies are featured who make a culinary related difference in any part of the world. Whether they feed children in Africa, run a green kitchen in Ohio or organize a program to combat obesity in Mississippi, this site will help them in their fund raising activities.
Home cooks and enthusiasts just browsing for ideas can take the guesswork out of their entertainment and culinary endeavors. The Culinary Hall of Fame presents them the highest rated entries on all culinary related topics.
To add your culinary endeavor, to vote for your favorites or to browse for ideas, point your browser to http://www.culinaryhalloffame.com
###