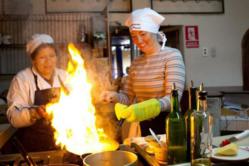 Tasting a country's cuisine is such an important part of experiencing the culture while travelling.
Missoula, MT (PRWEB) June 27, 2013
Culinary tours have become one of the fastest ways to become an expert on local food scenes. Encouraged by sustainable agriculture, the "locavore" and foodie culinary movements, Adventure Life has launched the Gourmet Food & Wine Collection, an assembly of tours in Central and South America with specifically-chosen luxury accommodations and excursions for travelers wanting a gourmet experience while exploring, being active, and learning about the local cultures. Adventure Life can customize these tours to include the finest lodging options in the region or add an extension to create a personal and memorable luxury trip that suites your refined tastes and interests.
"Whether it's a Chile wine adventure, a luxury lodge on the banks of Lake Titicaca, or gourmet dining after a day of snorkeling or scuba diving, we can make it happen," said Adventure Life General Manager Jonathan Brunger. "For anyone who has an interest in wine, food and Latin culture, this is a unique way to visit Chile, Peru, Mexico and Argentina."
On the Oaxaca culinary tour, guests learn local cooking secrets from master Oaxacan chefs and taste amazing dishes as they explore the best of Mexican cuisine. Another culinary tour based in Antigua, Guatemala dabbles in the joy of street food and local Guatemalan cuisine. A tour at the Lodge at Big Falls focuses on authentic Maya cuisine combined with crafts, music and adventure activities. A tour in Uruguay takes travelers to vineyards and wine tastings in Colonia and Montevideo, and a culinary tour out of Salta, Argentina explores the vineyards of Cafayate.
"The active traveler can explore the best of the Santiago valley region of Chile on a wine and cuisine adventure featuring mountain rides through vineyards, trekking in the Andes, culinary tasting experiences, and sightseeing," said Brunger. "Tasting a country's cuisine is such an important part of experiencing the culture while travelling."
For more information on Adventure Life's Gourmet Food & Wine Collection , visit http://www.adventure-life.com or call 800-344-6118.
About Adventure Life:
Adventure Life is a company of travelers with a passion for sharing the world with others. Our travel experience runs deep, from years volunteering in rural Africa and Central America, to research trips in Asia, studying in Europe, guiding in the Rockies, and just bouncing around every corner of the world. This deep experience is the reason behind our pioneering approach to travel and award winning itineraries. For nearly fifteen years we have been creating personal itineraries that immerse our travelers in the vibrant colors of a place, leaving both our guests and hosts enriched by the experience. From our beginnings as a Latin America specialist, we now offer private journeys, small group tours, and expedition voyages throughout the world. We pride ourselves on our intimate knowledge of our destinations and our dedication to sharing the world.