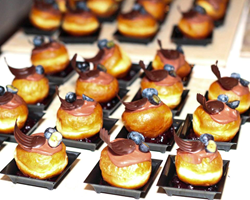 We love to show off our local flavours with pride.
Halifax, Nova Scotia (PRWEB) March 03, 2014
Visitors to Halifax will enjoy the best of culinary and wine in Nova Scotia this March at The Savour Food & Wine Show. Nova Scotia's top chefs, sommeliers and mixologists will come together with the shared goal of delighting guests with the flavours of Atlantic Canada. Patrons will taste their way through booths hosted by premier restaurants and wineries at the culinary showcase on Thursday, March 6, from 7:00pm to 9:00pm AST.
"The Savour food & wine Show has been captivating crowds for ten years," said Gordon Stewart, Executive Director of the Restaurant Association of Nova Scotia. "The Nova Scotia hospitality industry looks forward to this event every year. As proud Atlantic Canadians, we love to show off our local flavours with pride."
In addition to being a showcase for Atlantic Canadian cuisine, Savour is also a platform to celebrate established and emerging Nova Scotia talent.
"The hospitality industry is the backbone of our thriving culinary scene," said Patricia Lyall, President & CEO of Destination Halifax. "The people participating in Savour thrive on creativity and innovation and hone their craft year round. This is a chance to recognize that hard work."
Savour will take place at the Cunard Centre in Halifax. Purchase tickets individually or in combination with one of three hotel packages at savourfoodandwine.com.
Check out the Halifax vacation packages and start planning your culinary holiday by the sea.
About Destination Halifax:
Destination Halifax is a partnership of the Province of Nova Scotia, the Halifax Regional Municipality, the Hotel Association of Nova Scotia and participating industry members. Since its inception in 2002, Destination Halifax has operated with a goal of promoting the Halifax Regional Municipality as a year-round destination of choice for business and leisure travelers.
Media Contact:
Regis Dudley
Communications Manager
Phone: 902-423-1133
Email: rdudley(at)destinationhalifax(dot)com