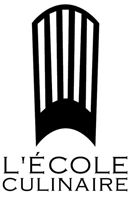 St. Louis, Missouri (PRWEB) March 15, 2012
The next generation of St. Louis chefs are offering a new menu at the Presentation Room Restaurant at L'Ecole Culinaire, 9811 South Forty Drive, starting March 12 and continuing through April. In addition to the new menu, special events in March include a St. Patrick's Day feast and a Grand Buffet.
For $10 on March 15, guests can enjoy a "just before" St. Patrick's Day lunch or dinner. The menu for the day includes favorite holiday traditions like corned beef, braised savory cabbage, roasted fingerling potatoes served with a horseradish cream and Irish soda bread. Plus, it wouldn't be St. Patrick's Day without Irish cream gelato topped with hazelnut caramel.
Guests also can dine buffet style for L'Ecole's Grand Buffet at 6:30 p.m. March 29. The cost is $20, and includes samplings from the class curriculum like lemongrass chicken stir-fry, grilled vegetable and goat cheese lasagna, carved pork tenderloin wellingtons with wild mushroom demi-glace, smoked salmon, dips, soups, desserts and more. Wine is served by the glass for $5.
The Presentation Room Restaurant is the final phase of the L'École Culinaire culinary degree program. Student chefs use the skills taught at L'École to run the restaurant as practical experience before entering the workforce. All gratuity and other donations will go toward the L'École Culinaire student fund, which aids students in need. Lunch reservations are available at noon, 12:30, and 1 p.m., and dinner reservations are available at 7 p.m., 7:30, and 8 p.m., Monday through Thursday.
Presentation Room Restaurant
Call 314-587-2433 to make a reservation for the St. Patrick's Day feast, the L'École Grand Buffet, lunch or dinner. Visit http://www.lecole.edu/restaurant.asp for more information and extensive menus.
L'Ecole Culinaire
As part of Vatterott Educational Centers, Inc., L'Ecole Culinaire offers a culinary school in St. Louis for the career-minded chef. Students experience hands-on learning and career-based instruction with professionals in the culinary industry. For more information, please visit http://www.lecole.edu.