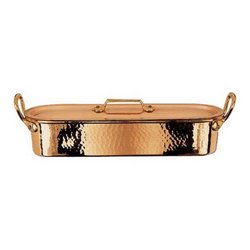 Simi Valley, CA (Vocus) December 31, 2009
CulinaryDirect.com, the preferred online store for the largest selection of professional chef's specialty tools and utensils, helps customers into a new decade of cooking and dining. Customers can take advantage of this limited offer of 25% off of the entire selection of copper cookware from December 31, 2009 through January 31, 2010.
From special dinner parties to religious holiday gatherings a Copper Fish Poacher to a Copper Frying Pan is always needed. CulinaryDirect.com, the one stop shop online store can easily help make those special occasion feasts more memorable.
For those food-obsessed friends who have it all, consider a gift from CulinaryDirect.com. You'll look like a culinary legend by either using Culinary Direct's tools and utensils or giving a gift that keeps on giving. Customers can take advantage of Culinary Direct's selection of copper cookware and other stellar cooking items by visiting http://www.culinarydirect.com.
Culinary Direct has been a leader in the industry since 1999, boasting a client list that includes numerous restaurants, bakeries, confectioners, caterers, markets, commissaries, professional and home chefs alike. Culinary Direct provides customers the highest quality cooking preparation products at the most competitive prices carrying only the best, professional grade products available from reputable and long established companies in Europe, including Sambonet and Paderno World Cuisine. For more information on Culinary Direct, visit http://www.culinarydirect.com.
For additional information or to arrange for an interview with a Culinary Direct representative, please contact Tamara York at Tamara York PR, email tamara(at)tamarayorkpr(dot)com.
Tamara York/Tamara York PR
tamara(at)tamarayorkpr(dot)com
917-328-4408
# # #