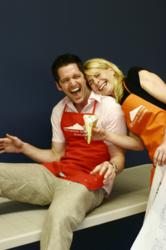 "This is an even better event now that we can really freeze the ice cream. When we used canisters we never knew if we would get frozen ice cream or cold soup. Tasty, but not ice cream. Every team that has tried the nitrogen technique has loved it."
Boston, MA (PRWEB) May 30, 2013
Recipe For Success is proud to announce that they have enhanced their corporate summer team building program, the Ice Cream Making Challenge. This very unique program now uses liquid nitrogen to freeze ice cream providing a fresh and healthy team building alternative.
In addition to following the company's traditional commitment to culinary based team building, the Ice Cream Making Challenge is a green and healthy way to participate in team building. Typically, ice cream needs gums, egg yolks or other stabilizers and emulsifiers to keep it frozen and unspoiled on its months-long journey to a consumer.
The liquid nitrogen used in the Ice Cream Making Challenge is a natural element that allows participants to use just a few fresh, organic ingredients to make a batch. Due to the rapid freezing, consumers can get same an ideal texture by using less milkfat since crystal grains are smaller.
The use of liquid nitrogen to freeze ice cream is a dramatic and quick new way to wow the crowd as the process looks much like a witch's caldron as the nitrogen hits the air. Company Founder, Richard Cooper is thrilled to bring this dramatic, high tech alternative to culinary team building.
For more information on the Ice Cream Making Challenge, please call 1.888.398.8326 or e-mail hello(at)teambonding(dot)com. Details can also be found on the company's website: http://www.recipeforsuccess.com.
About Recipe For Success
Recipe for Success is a unique team building company that uses culinary challenges to build better teams. Founded by Chef Richard Cooper, a business executive and owner of My Mother's Kitchen Cooking School and David Goldstein, Founder of TeamBonding, Recipe for Success continues to lead the way in food-based team building events. For the last 10 years, Recipe for Success has been developing, refining, and delivering fun, affordable, high-quality culinary team building programs to an impressive list of clients throughout the United States and beyond. For more information on the company, please visit: http://www.recipeforsuccess.com.
About TeamBonding
Over twenty years ago, TeamBonding started with a simple question: how can we facilitate true, authentic bonds between members of corporate teams? Who hasn't been to a corporate event or participated in "team building" activities where we're meant to be a team but everything seems forced and awkward? TeamBonding takes a different approach, incorporating the power of play to form bonds that are authentic and profound. When bonds run deep, teams are more collaborative and more caring of each other, which makes them more effective and productive. For more information on the organization, please visit http://www.teambonding.com.