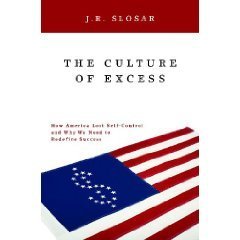 A revealing psychological explanation of how we as a nation grapple with self-control and how we can develop a new and healthier generation
Irvine, CA (Vocus) December 7, 2009
With the market buckling, banks knocked to their knees, and massive amounts of presumed wealth revealed as the product of self-deception and breathtaking criminality, an age of indulgence has—we hope—ended. Economically speaking, we understand how it happened, but why did it happen? What psychological factors fueled the years of excess and how do we refocus ourselves for a more rational, self-controlled future?
Praeger's new The Culture of Excess: How America Lost Self-Control and Why We Need to Redefine Success, by J.R. Slosar, is a revealing psychological explanation of how we as a nation grapple with self-control and how we can develop a new and healthier generation. As Slosar shows, our fast-and-loose approach to money was actually a symptom of a more widespread pattern of excessive behavior. He portrays an America where the drive to succeed and the fear of missing out manifested not only in self-entitled corporate fraud, but in everything from sharp rises in obesity and cosmetic medical procedures to equally troubling increases in eating disorders, panic attacks, and outbreaks of uncontrollable rage. This book:

Shows how the extraordinary growth of capitalism, technology, and media
interact and become additive factors in the loss of self-control

Defines the underlying cause of declining self-control as cultural narcissism that leads to excessive risk-taking
Explains how the compromises made in adapting to intense economic competition lead to a false sense of self and reality
Connects the rise of cultural excess to a decline in critical thinking and analysis that fosters an avoidance of data, numbers, and math
Featuring numerous vignettes and case studies, dozens of research citations at the end of each chapter, an extensive bibliography referencing 75 professional journals and 48 books, and a comprehensive index, The Culture of Excess is the first book to assess the impact of economic and social factors on the nation's psychological well-being. Narcissism, psychopathy, rigidity and self destruction, perfectionism, the illusion of success, and identity achievement all come into play as Slosar diagnoses the psychological engines of this indulgent age and offers his prescription for helping "Generation Me" become "Generation We."
J.R. Slosar is a clinical psychologist in private practice in Irvine, CA, and an adjunct assistant professor at Chapman University, Orange, CA. In the past 25 years he has provided direct clinical and consulting services in a variety of diverse settings. He has taught classes at several colleges and universities throughout his career. Visit http://www.cultureofexcess.com or call 949-851-8277 for more information.
###