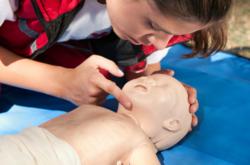 The Red Cross is looking forward to providing this important training to young people from around the world before they start their year caring for American children.
Cambridge, MA (PRWEB) December 11, 2012
Cultural Care Au Pair, the industry leader in intercultural live-in child care, has recently taken a step to ensure that all au pairs arriving from overseas to care for American children have completed a Red Cross Adult and Pediatric CPR and First Aid Certification program. By teaming up with the Red Cross to conduct the training and offering the program at the Au Pair Training School that au pairs attend when they first arrive in the United States, Cultural Care will provide au pairs with the necessary skills should a child in their care need immediate assistance.
As the leader in emergency preparedness, each year the American Red Cross trains an average of more than 9 million people in the skills they need to prepare for and respond to emergencies. Among the various formats and delivery options offered by the Red Cross, Cultural Care Au Pair has opted for the Full Service Training which includes qualified Red Cross instructors presenting the complete CPR/AED and first aid certification program through on-site instruction at the Au Pair Training School.
The course that the au pairs will take includes:

Pediatric First Aid: responding to common first aid emergencies, including burns, cuts, poisoning and head, neck and back injuries
CPR/AED: responding to cardiac and breathing emergencies in adults, children and infants, including the use of automated external defibrillators (AED).
The au pair's Red Cross First Aid and CPR training, for all participants arriving in January and beyond, will incorporate the latest scientific guidelines, have a low student-to-instructor ratio and be focused on hands-on learning. Two year certification is issued upon successful completion. Other benefits of the Red Cross training for the au pairs include free online skill refreshers and free digital course materials.
Jennifer Mintzer, Director of the Cultural Care Au Pair Training School, which is located on the Oakdale campus of St. John's University on Long Island, is looking forward to the addition to the school's syllabus. "We have always been proud of the level of preparation we have provided to the au pairs during their first week in the United States. Our curriculum includes child development, effective communication, behavior management, food and nutrition and, of course, safety and emergency education. Adding CPR and first aid instruction by Red Cross trainers is an excellent enhancement to our comprehensive training program."
Many au pairs have already had similar training, but providing thorough instruction at the Au Pair Training School will ensure that all participants have completed the CPR certification program. Marc Jaschinski, Country Manager for Cultural Care in Germany says, "Although all German au pairs are required to take CPR in order to get their drivers license and therefore come to the U.S. with relevant training, the course at the Au Pair Training School will reinforce the basics of pediatric CPR and serve as a good refresher for the au pairs."
The American Red Cross has been the go-to source for more than a century for information, skills and confidence to act in an emergency. Joseph Grappone of the American Red Cross of Greater New York states, "The purpose of the training is to give individuals the knowledge and skills necessary to recognize and provide basic care for first aid, breathing and cardiac emergencies in infants, children and adults until advanced medical personnel arrive and take over care. The Red Cross is looking forward to providing this important training to young people from around the world before they start their year caring for American children."
The agency's approach to au pair training is unique. "Cultural Care is the only organization to provide au pairs training in a formal academic setting. We believe this is a crucial adjustment period for au pairs and want the four days of learning to be as effective as possible," says Melissa Fredette, Executive Vice President of Cultural Care Au Pair. "We are now also the only au pair agency who contracts with the American Red Cross to provide certification in adult and pediatric CPR and first fid for all au pairs." In addition to the training the au pairs receive at the school, Cultural Care Au Pair also offers supplementary training to au pairs four times during their year in the U.S. as part of their Continuing Education Program. These seasonal seminars supply au pairs with additional information on safety measures and injury prevention for children.
According to the American Heart Association, 70% of Americans may feel helpless to act during a cardiac emergency because they either do not know how to administer CPR or their training has significantly lapsed. Qualified, recent training can provide the essential information as well as the confidence to take life saving actions. And, given that 88% of cardiac arrests occur at home, if an au pair is called on to administer CPR in an emergency; the life saved is most likely to be that of a child.
# # #
About Cultural Care Au Pair
Cultural Care Au Pair is the leading provider of intercultural childcare in the United States. Since 1989, Cultural Care Au Pair has placed more than 85,000 au pairs in welcoming American homes. A U.S. Department of State regulated program, Cultural Care Au Pair is headquartered in Cambridge, MA, with their own extensive network of recruitment, screening and orientation offices worldwide and more than 600 local coordinators across the U.S. For more information, visit http://www.culturalcare.com or call 800-333-6056.