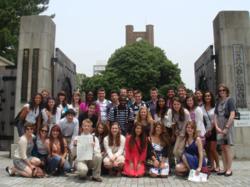 ..a unique learning opportunity for American high school students to gain hands-on experience overseas and to collaborate on global sustainability issues
Washington, DC (PRWEB) September 18, 2012
Cultural Vistas is pleased to announce it will administer the inaugural American Youth Leadership Program with Singapore and Malaysia sponsored by the Bureau of Educational and Cultural Affairs (ECA) of the U.S. Department of State.
This funded, yearlong program is designed to provide U.S. high school students and educators with firsthand experience and knowledge of the people and cultures of Singapore and Malaysia, with a specific focus on the two nation's approaches to sustainable development.
"This grant provides a unique learning opportunity for American high school students to gain hands-on experience overseas and to collaborate on global sustainability issues," said Dan Strobel, Program Manager and AYLP coordinator at Cultural Vistas. "We're excited to partner again with the U.S. Department of State on what is to be Cultural Vistas' third Youth Leadership Program. Together, with our partner organizations in Singapore and Malaysia, we hope to provide yet another dynamic learning experience and life-changing opportunity for high school students across the country."
The 2013-2014 American Youth Leadership Program with Singapore and Malaysia is open to high school students between the ages of 15 to 17, as well as teachers and educators nationwide. It includes a competitive participant selection process and comprehensive orientations prior to the exchange.
The program aims to foster mutual understanding, civic engagement, and a global mindset among young Americans through three distinct project phases.
•Virtual collaboration and orientation activities introducing participants to the culture and history of Singapore and Malaysia, and the nations' approaches to environmental sustainability; culminates with pre-departure orientation in Washington, D.C.(February – June 2013)
•Three-week immersion experience in Singapore and Malaysia; including a series of educational and cultural workshops, team building exercises, community service activities, university lectures, sightseeing, and a homestay experience. (July 2013)
•Post-program implementation of education and service projects that involve the skills and learning explored during the exchange (August 2013 – November 2013)
This will mark the third year of the American Youth Leadership Program, and the first with Singapore and Malaysia as the destination countries.
Cultural Vistas previously administered Youth Leadership Programs conducted in Japan for more than 65 American students and educators during both the summers of 2011 and 2012.
Program applications will be accepted until Monday, November 26, 2012.
Learn more about the American Youth Leadership Program with Singapore and Malaysia and how to apply at culturalvistas.org/aylp.
About Cultural Vistas
A non‐profit 501(c)(3) organization and designated sponsor of Exchange Visitor Programs, Cultural Vistas has facilitated professional exchange programs and services for visitors coming to the United States, and Americans seeking overseas experiential learning opportunities since 1950 — Learn more at culturalvistas.org
Follow @CulturalVistas on Twitter.
About the U.S. Department of State's Bureau of Educational and Cultural Affairs
The ECA fosters mutual understanding between the people of the United States and the people of other countries to promote friendly and peaceful relations through a wide range of academic, cultural, and professional exchange programs — Learn more at exchanges.state.gov