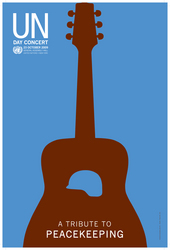 With more than 110,000 personnel in the field, peacekeeping has become the largest enterprise in the United Nations Secretariat.
New York, NY (PRWEB) October 22, 2009
Allan Buchman, founding Artistic Director of NY-based, Culture Project announces their latest event, the UN Day Concert: A Tribute to Peacekeeping. This celebration will commemorate the anniversary of the UN Charter and shine light on one of the organization's most noted initiatives: peacekeeping. The concert, to be filmed by LinkTV, will take place on 10/23 in the UN General Assembly on the eve of UN Day. This continues an effort on the part of Culture Project to emphasize the value of culture as a transformative force and much needed diplomatic tool.
This year marks the 64th anniversary of the founding of the UN, whose mission of international coexistence, peace and security has never been more vital. Peacekeeping and conflict prevention are at the very heart of the these founding principles; utilizing Peacekeepers, or "Blue Helmets," as they're popularly known, who non-violently aid in stability and sustainable world peace by disarming ex-combatants, training police, supporting elections, and helping to build State institutions.
To usher in UN Day and promote global discourse, Culture Project has assembled an all-star lineup of world musicians/filmmakers/ambassadors. The event, emceed by CNN's Isha Sesay, will showcase performers from around the world, including Roberta Flack, Angelique Kidjo, UN Goodwill Ambassador Harry Belafonte, Lang Lang, John McLaughlin, Zakir Hussain, Remember Shakti, Emmanuel Jal, Sister Fa, Salman Ahmad with Samir Chatterjee and Aterciopelados. Renowned musician/producer Nile Rodgers will serve as musical director.
Also featured is a new documentary by Fisher Stevens, The War Against War, which will officially premiere in a series of five short segments throughout the evening. The film gives a candid/objective look at the dangers "Blue Helmets" face in the field as well as the trials/tribulations the "bosses" face at Headquarters. Through footage from field missions around the world, and intimate interviews with UN officials, Peacekeepers in the field and world leaders, Stevens captures the challenges UN Peacekeepers face every day serving some of the world's most vulnerable populations. Mr. Stevens is the award-winning director and producer this year's Hot Docs and Sundance Audience Award winner, The Cove.
Press is invited to the following:

Celebration Dinner, Thursday 10/22 @ 7:30 PM EDT, in UN Delegates Dining Room.
Press Conference, Friday 10/23 @1:00 PM EDT, in UN Briefing Room 226.
Champagne Toast, Friday 10/23 @ 6:45 PM EDT, in the backstage of the UN General Assembly, with UN Secretary General Ban Ki-moon and the production's participants.
Concert, Friday 10/23 @ 7:30 PM EDT, in UN General Assembly.
Please note that all journalists must have valid UN accreditation prior to the events. Please visit: http://www.un.org/media/accreditation/form/myform.asp
ABOUT CULTURE PROJECT
Culture Project is a non-profit organization which aims to inspire/impact global discourse and policy by fostering innovative collaboration between human rights organizations and artists. Accolades and honors include NY Times' #1 Play of the Year, Amnesty International Freedom of Expression Award, and a Drama Desk Award, among others. Culture Project has premiered celebrated shows including The Exonerated, My Trip To Al-Qaeda, Betrayed and In Conflict.
In March, they produced an historic concert at the UN, Breaking the Silence, Beating the Drum, to commemorate the abolition of the Transatlantic Slave Trade. By strengthening its presence at the UN, Culture Project hopes to urge policy makers/elected officials to employ culture as a force for diplomacy.
ABOUT UN DAY/PEACEKEEPING OPERATIONS
The anniversary of the entry into force of the UN Charter on 10/24/1945 has been celebrated as UN Day since 1948. First observed by President Harry Truman, ensuing US Presidents have issued formal Proclamations asking Americans to observe 10/24 as a day of global observance to reflect on the role/achievements of the UN and its family of specialized agencies.
This year UN Day will pay special tribute to peacekeeping. Secretary-General Ban Ki-moon noted: "With more than 110,000 personnel in the field, peacekeeping has become the largest enterprise in the United Nations Secretariat." While the military continues to form the cornerstone of most peacekeeping operations, the new face of peacekeeping includes some professionally/ geographically diverse, committed individuals from around the globe.
Blue Helmets come from over 100 countries with diverse backgrounds, but share a common goal for which they risk their lives on a daily basis: to protect civilians and provide breathing space for a fragile peace to take hold. Peacekeeping has evolved over the past decade, to now include over 115,000 troops, police and civilians deployed in 17 operations on five continents. Peacekeepers face unprecedented demand on their services, making them indispensable to the development of international peace and stability.
###