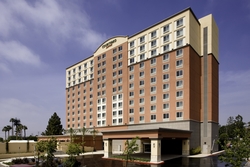 Many brides want to have their weddings close to their homes rather than driving all over Los Angeles. We are thrilled to open our doors to our neighborhood brides and wedding vendors
Culver City, CA (PRWEB) September 2, 2009
On September 13, 2009, fifteen wedding vendors from Los Angeles' trendy Westside will converge at the Courtyard by Marriott Los Angeles Westside hotel in Culver City for the West LA Bridal Show. The show will be open to the public from 1pm to 5pm, offering free parking and admission to brides and their entourage.
The Courtyard by Marriott hotel had been searching for local bridal shows at which to exhibit their extensive wedding and banquet hall facilities, but all were too far from the hotel's Culver City location. The brides attending those shows were seeking to hold their wedding festivities in the neighborhood of the show. So, the hotel sales & catering team took matters into their own hands and decided to provide a local venue for their community.
"Many brides want to have their weddings close to their homes rather than driving all over Los Angeles. We are thrilled to open our doors to our neighborhood brides and wedding vendors," said Pamela Hirneisen, Director of Sales & Marketing for the hotel.
The list of vendors includes Classic Party Rentals, Todd Elliot Entertainment, Rosa's Bridal, Tuxedo Junction, Hansen's Cakes, and many more. In light of the current economic conditions, vendors were not charged for exhibit space. This is the Culver City hotel's way of building strong community relationships, which will hopefully produce more referrals for weddings and special events.
Parking and admission to the show are complimentary.
To RSVP, or for more information, please call Leticia Catalan at 310-590-2514.
About Courtyard by Marriott Los Angeles Westside:
Located at 6333 Bristol Parkway in Culver City, CA, the hotel completed a $38 million top-to-bottom renovation in April 2008. Boasting 260 spacious guestrooms and suites in addition to over 10,000 square feet of flexible indoor-outdoor meeting space and a full catering department, the hotel in Culver City is well-equipped to handle groups of 10-300 guests. Corporate and group rates are available. Complimentary amenities for guests include a 24-hour business center, a 24-hour fitness center, an outdoor pool and Jacuzzi, and high speed wired and wireless Internet throughout the hotel. Reservations may be made by calling 1-800-736-0698 or via the Internet at http://www.marriott.com/hotels/travel/laxcv-courtyard-los-angeles-westside/
###