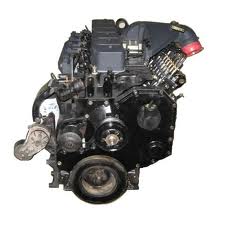 These motors are in used condition and are now represented with low mileage for engine buyers.
Denver, Colorado (PRWEB) May 13, 2013
Cummins motors have remained in demand as an alternative engine type by vehicle owners for more than 30 years in the auto industry. This independent diesel manufacturer has supplied some of the top automakers with its 3.9 and 5.9 displacements to provide more torque and horsepower to vehicles. The GotDieselEngines.com company has now added the Cummins ISB diesel engine for sale online. These motors are in used condition and are now represented with low mileage for engine buyers. The company inventory now carried and the low price structure in place can be viewed online at http://www.gotdieselengines.com/cummins-isb-diesel-engine.
The placement of the Cummins engines in the Dodge Ram has been one of the most successful pairings of motors in the automotive industry. The diesel variants provided for the Dodge brand of pickup trucks helped to introduce the range of torque and reliability that was offered outside of a genuine Chrysler engine build.
Locating these motors with low mileage through secondary sources can be difficult for buyers not purchasing through a dealership or authorized reseller. The engines now added for online sale in the Cummins brand are expected to create more opportunities for engine buyers to locate a quality 3.9 or 5.9 displacement engine.
The enhancements that have been introduced on the GotDieselEngines.com website this year have helped this company expand its sales made online. The installation of the new engine search tool online is expediting the process of research for buyers. Instead of relying on offline processing of quote requests, this new system is able to provide quotes immediately online as well as stock and warranty information. This new one-touch quote system is now one of the most used tools located on the company website. Regular engine updates and pricing modifications are made to the system to guarantee all data supplied to buyers remains accurate.
New price structures announced this month are helping to supply buyers with affordable options compared with retailers unable to discount MSRP prices. The news release at http://www.wcax.com/story/22222990/used-diesel-truck-engines-for-sale-upgraded-to-two-year-warranties-at-gotdieselenginescom was used to inform the buying public of the new diesel pricing located online or through the company toll-free telephone number. These price incentives are the first of several changes planned this year for the Got Diesel Engines Co. to provide more options for engine buyers to depend upon when purchasing a preowned replacement.
About GotDieselEngines.com
The GotDieselEngines.com company has become one of the largest diesel engine resources used by engine buyers to locate discount engines online. This company stocks inventory and makes referrals to other companies to provide better pricing options for buyers. The installation of the company quote system is now responsible for larger numbers of price quotes being generated without customer service assistance. The GotDieselEngines.com company supplies warranty coverage when sales are completed to provide an additional layer of protection for each buyer. Through price drops and inventory upgrades, this company is helping to offer alternatives to auction sellers or other resellers of diesel motors online.