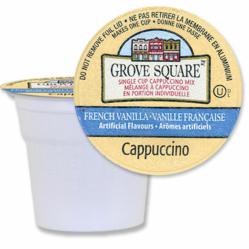 ... with free shipping available over $75 to most Ontario and Quebec residents.
Toronto, Ontario (PRWEB) April 23, 2013
As a result of the recent expiry of Keurig's K-Cup patent, a number of manufacturers have begun to release their own line of single serving K-Cups compatible with K-Cup brewers. This increase in competition is expected to bring new flavours and aggressive pricing to a historically tightly controlled market. Among the newly released brands are: Barista Prima, Brooklyn Beans and Grove Square.
It is anticipated that these new brands will make products and flavours available in K-Cup form that were previously only available for other machines. Grove Square, for example, is releasing cappuccino flavours that were previously only available for Tassimo brewers. New flavours, such as Caramel Apple Cider, French Vanilla Cappuccino, and Hazelnut Cappuccino are expected to be on the market in the near future. Additionally, a wider selection of hot chocolates will also become available, including Creamy Hot Chocolate, Dark and Rich Hot Chocolate and Mint Hot Chocolate.
In an effort to provide an increased access to the widest range of K-Cups possible to both Toronto and the rest of Canada, CupCoffee.ca is anticipating having a number of these new flavours and brands in stock on their online store. Canadians can purchase 24 count boxes for just $12.90, with free shipping available over $75 to most Ontario and Quebec residents. Shipping to other provinces and territories is done for a nominal fee.
CupCoffee.ca is continually adding new products to their online store in order to provide Canadians with the greatest number of K-Cups in one easy and convenient location. They recognize the wide and varying tastes of Canadians and attempt to appeal to as many K-Cup consumers as possible by offering an extensive variety of products and flavours that can be shipped directly to Canadians' doors.