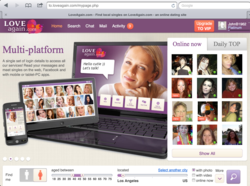 LoveAgain is designed specifically for the needs of the more than 50 million Web-savvy singles aged 40 and over in the United States.
PALO ALTO, Calif. (PRWEB) September 27, 2012
Cupid plc [LSE AIM: CUP], publisher of the world's most popular and fastest growing online dating communities, has broadened its range of online dating services for the US market with the launch of mature dating site, LoveAgain.com, along with a dedicated Facebook app. Created with the primary goal of bringing love to senior singles in the US market, and designed specifically for mature singles looking for love, friendship, or just a bit of fun, LoveAgain.com emphasizes a social atmosphere that fosters natural and long-lasting relationships.
The launch of LoveAgain.com represents an important step for Cupid as the Scotland-based company continues to make inroads into the US market. The new dating site follows close on the heels of the success of Cupid.com, BeNaughty.com and Flirt.com in the United States. Extensive digital marketing activities are promoting the launch across the US and Canada.
"LoveAgain is designed specifically for the needs of the more than 50 million Web-savvy singles aged 40 and over in the United States," said Bill Dobbie, CEO and co-founder of Cupid plc, based in Edinburgh, Scotland. "LoveAgain.com takes its design cues from our successful UK site, MatureDatingUK.com, which is now one of the top destinations for the over-40 demographic in Britain. What we've seen is that our mature and experienced members have specific, long-term goals in mind, and this leads to high percentages of successful matches."
Key features of LoveAgain.com include:
■ Exclusively for mature singles: LoveAgain.com ensures members will meet others within their own age group and with whom they are likely to associate well. Whether a member is seeking romantic entertainment or marriage, there will be many potential partners on LoveAgain.com, and these members typically know exactly what they want.
■ Social atmosphere: LoveAgain.com uses a straightforward, natural approach to dating that encourages a community to flourish with chat rooms, quick chat, messaging and a lot more.
■ Local focus: LoveAgain.com is designed to help people make contact with other singles in their local area with a high degree of accuracy.
■ Safe and fun: LoveAgain.com gives people the opportunity to get to know somebody first before meeting them. Members' profiles offer far more details about their character and personality type than can be assessed had they met in a supermarket, bar, party, or indeed anywhere.
■ Multi-platform: LoveAgain.com members can connect with each other on the Web, on their mobile phone, and via a special Facebook app.
What people are saying about LoveAgain.com
Joe Warren, 57 years old: LoveAgain.com rocks! Got into your site through an invitation from a friend. It's good for the people who have had a rough time to get back stability again. I'm happy with my experience of this site so far and I'm enjoying getting to meet new people and getting to know myself a bit better. I'm in no rush to find my ideal partner, so I'm quite happy to play the game and see what comes my way.
Tony Wong, 67 years old: Helpful staff and some great features. This site has many properly filled-out profiles, good pics and active members. Registration was easy — it didn't make me jump through loads of hoops and keep filling out the same info over and over again. Once I took the time to fill in my profile with as much detail as possible and learned how to use the features, I found I was getting introduced to a lot less 'misses' and far more 'maybes'. Be patient and friendly and you will find the whole experience to be a lot of fun and, like me, very rewarding!
George Williamson, 41 years old: Great site! Met some great people and got chatting with a member who at my request agreed to having a chat over the webcam. This might scare some people or away or sound a bit forward, but the talk live feature is great and neither party's numbers are given away, so it's less of a big deal. Anyway, it started up a bit of a regular thing with her! Maybe I'm lucky, or maybe it's my good looks and charm;). Since then we've been on a couple of nights out together and get on well... I haven't been online since! Fingers crossed!!!
How to sign up
Free memberships can be created at LoveAgain.com or from the LoveAgain Facebook page.
ABOUT CUPID PLC
Since its formation in 2005, Cupid has established itself as the global leader in online dating, with a base of more than 54 million members in 58 countries, and revenues of £53 million in 2011. Cupid plc was listed on AIM in June 2010 (LSE AIM:CUP). The company offers a wide variety of online dating services (traditional dating, casual dating, and niche dating) that appeal to dating users of diverse ages, cultures, and social interest groups. Visit Cupid on the Web at http://www.cupidplc.com, and follow us on facebook.com/cupidfanpage and [email protected]