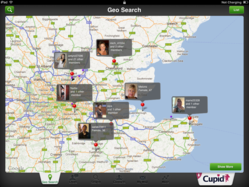 I can sit watching TV while casually leafing through profiles and replying to messages and winks. The chat feature is really cool and I especially love the maps. Cheers Cupid!
PALO ALTO, Calif. (PRWEB) July 03, 2012
Cupid plc [LSE AIM: CUP], one of the world's most popular and fastest-growing dating communities, now gives daters another fun way to meet each other with its latest online dating app for the iPad. The new Cupid iPad app, My Cupid HD, is available today as a free download from the iTunes App Store, and offers budding romantics a portable and interactive way to meet new partners using the world's most intimate tablet. The latest version includes a powerful geo-location feature so users can hook up with nearby singles looking to meet the perfect companion.
My Cupid HD is also optimized for the new iPad's Retina display, giving online daters the best possible way to highlight their most appealing attributes and showcase them to the more than four million registered users across Cupid.com, Flirt.com, and GirlsDateForFree.
What people are saying about the new My Cupid HD iPad app
"This app is awesome — it took me just two minutes to find someone perfect for me less than a mile away. Waiting for her to message me back now. Fingers crossed!" —Robert Kearns, Victoria, Australia
"I use my iPad for pretty much everything these days but had never thought of using it for dating. This app is easy to use, looks pretty amazing (a fine use for the cool Retina display) and will hopefully have me back in the dating scene within the week. Thanks." —Alicia Gordon, Boston, USA
"My fingers are on fire! I've been chatting away for the last two hours in these great chat rooms and have already met some super-nice people. Already planning on going for drinks in a group out in Glasgow this weekend. I would buy this app just for the local chat rooms… though the big photos are also particularly great." —Tom McAllen, Ayrshire, UK
"I can sit watching TV while casually leafing through profiles and replying to messages and winks. The chat feature is really cool and I especially love the maps. Cheers Cupid!" —Hannah Aires, West Sussex, UK
The My Cupid HD application provides:
■ Location-based search to view photos and select local singles that meet user-defined criteria.
■ Access and unified login to Cupid's top three dating venues.
■ Alerts and notifications to quickly respond to in-bound requests from singles who want to connect.
■ Access to special chat rooms to get to know other members.
Once signed up to a choice of subscription packages ranging from $13 for 7 days, to $99 for a whole year, full members, My Cupid HD lets daters:
■ Create a profile of essential information so others can search and match based on their personal attributes
■ Swipe and tap to find the ideal partner in the ideal town
■ "Wink" at an unlimited number of singles
■ Receive messages from their new admirers
"The iPad has been a blockbuster hit across all age groups and geographies because it's the most personal and intimate of all portable devices. The iPad's location-aware portability, touch-driven interactivity and high-definition screen make it the perfect device for connecting with other Cupid members, wherever you are," said Bill Dobbie, CEO of Cupid PLC. "Cupid.com's new iPad app is great for singles on the move that aren't prepared to settle for anything less than picture-perfect HD resolution and a full range of online dating services."
Where to get it: My Cupid HD is available as a free download in the Apple iTunes App Store. Subscription packages are available for $13.99 for 7 days, $31.99 per month, $54.99 for 3 months, $74.99 for 6 months, or $99.99 per year. Payment will be charged to the user's iTunes Account at confirmation of purchase.
ABOUT CUPID PLC
Since its formation in 2005, Cupid has established itself as the global leader in online dating, with a base of more than 54 million members in 58 countries, and revenues of £53 million in 2011. Cupid plc was listed on AIM in June 2010 (LSE AIM:CUP). The company offers a wide variety of online dating services (traditional dating, casual dating, and niche dating) that appeal to dating users of diverse ages, cultures, and social interest groups. Visit Cupid on the Web at http://www.cupidplc.com, and follow us on facebook.com/cupidfanpage and Twitter@cupidplc.